Felix Greuter and Margaret Surbeck Marriage Record

Felix was born November 20, 1837 in Singen, Germany. Margaret was born November 18, 1844 in Oberhallau, Switzerland. They were married in the First German Evangelical Presbyterian Church in Newark, New Jersey on May 20, 1866. Felix and Margaret became the parents of Felix Greuter Jr. (1867-1892), Margaret Greuter Bauer (1868-1940), Herman Greuter (1874-1940), Anna Greuter Bevensee (1876-1958), Mary Greuter Kluge (1878- ), Charles Greuter (1881-1953), and Henry F. Greuter (1884-1934).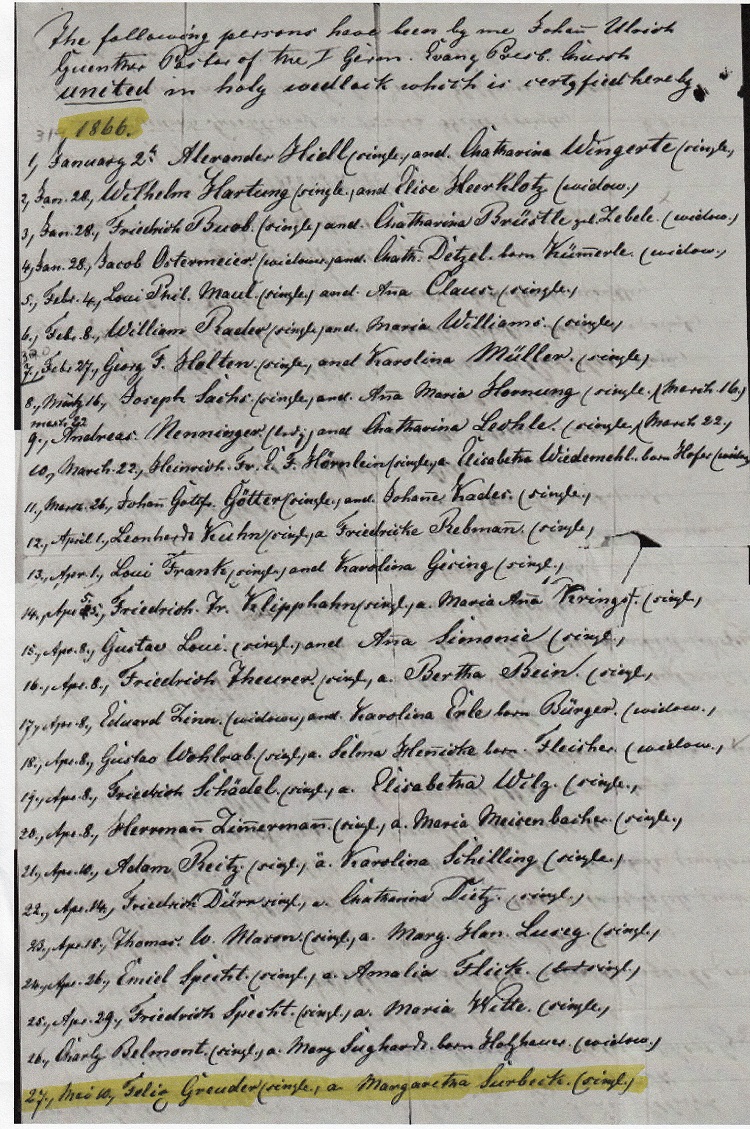 The following persons have been by me Johann Ulrich
Guenther Pastor of the I Germ. Evang. Presb. Church
united in holy wedlock (-----) is (----) (----) here by 1866.

27. May 10, Felix Greuder (single) and Margaretha Surbeck (single)



Marriage: 10 May 1866
Groom: Felix GREUDER, unmarried, born 20 Nov 1837 in Singen, Baden, silverplater, father is Kaspar.
Bride: Margaretha SURBECK, unmarried, born 18 November 1844 in Oberhallau (Schaffhausen Canton, Switzerland), father is Zacharias.
Witnesses: Johann Betz and Konrad Messmer
First German Presbyterian Church, Newark, NJ




Documents courtesy Tom and Kathryn Peters

Back to the Top!
---

---
LYNN'S FAMILY WEBPAGE