Jacob Bogner Death Certificate

Jacob (Jack) was born August 21, 1902 in New York, the son of Max Bogner (1875-1960) and Adele Zeif (1877-1972), and the husband of Margaret Bittlingmeier (1906-1989). Jack and Margaret were the parents of Jacqueline Bogner Murphy (1933-1994) and Ronald Bogner.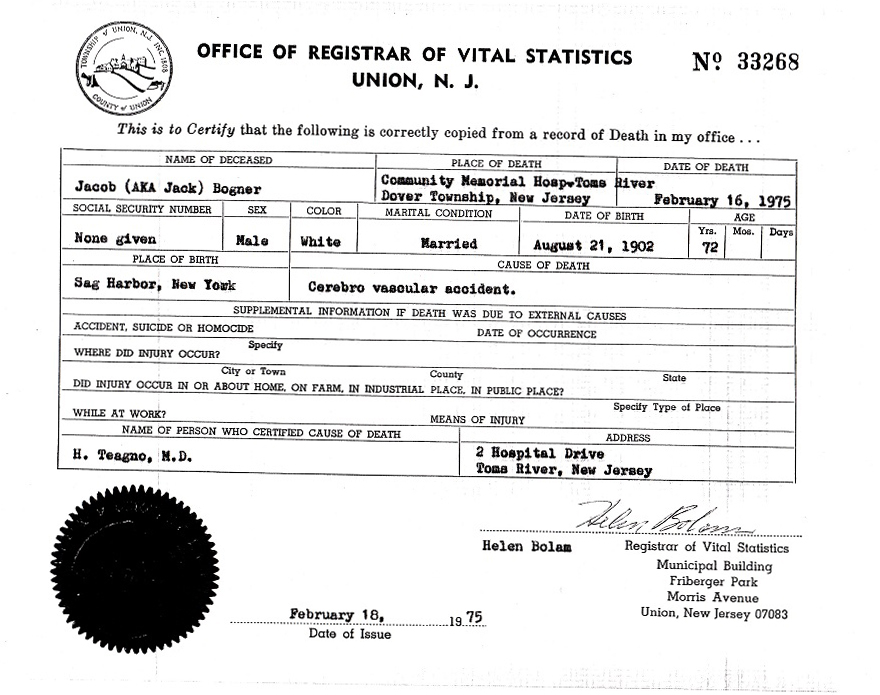 Name: Jacob (AKA Jack) Bogner

Age: 72 years

Date of Birth: August 21, 1902

Birthplace: Sag Harbor, New York

Last residence: 

Place of Death: Community Memorial Hospital, Toms River, Dover Township, New Jersey

Marital Status: 

Occupation: 

Father: 

Mother: 

Date of Death: February 16, 1975

Cause of Death: Cerebro Vascular Accident

Informant: 

Place of Burial: 


Back to the Top!
---

---
LYNN'S FAMILY WEBPAGE