Katherine Schuhmann Bittlingmeier Kern Death Certificate
Katharine Schuhmann was born in Fremont, New York on December 22, 1856, but her parents came from Bavaria, Germany. Her father, Anton Schuhmann, was born there in February 1818; Her mother, Josephine, was also born in Bavaria, Germany, around 1820. Fremont is in upstate New York, about 120 miles from Newark. Katharine married Louis Bittlingmeier (1844-1899) in Newark on August 2, 1876. Louis, who worked as a "Hatter" in Newark, was only 55 years old when he died on October 11, 1899. Katharine eventually remarried, in 1902, to Sebastian Kern, a German who worked in Newark as a night watchman. Document courtesy Kathryn Peters.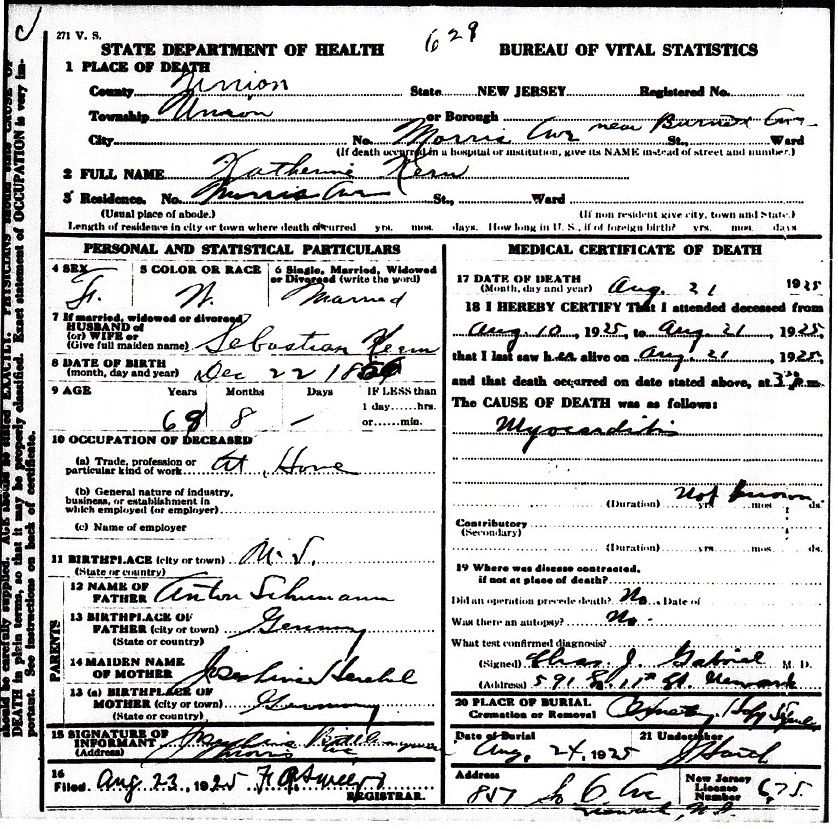 Place of Death: Morris Avenue (near Burnet Avenue), Union, New Jersey

Name: Katherine Kern

Residence: Morris Avenue (near Burnet Avenue), Union, New Jersey

Sex: Female

Color or Race: White

Marital Status: Married

Wife of: Sebastian Kern

Date of Birth: December 22, 1856

Age: 68 years

Occupation: At Home

Birthplace: U.S.

Father: Anton Schumann; Germany

Mother: Josephine (Herschel???); Germany

Informant: Josephine Bittlingmeier, Morris Ave.

Date of Death: August 21, 1925

Cause of Death: Myocarditis

Duration of Illness: Not Known

Place of Burial: Cemetery of the Holy Sepulchre



Back to the Top!
---

---
LYNN'S FAMILY WEBPAGE