Louis Bittlingmeier Obituary

Louis was born January 24, 1844 in Hasselbach, Baden, Germany. He was the son of Christoph Ludwig Bittlingmeier (1808-1876) and Margaretha Gauss (1807-1867), and the husband of Katharina Schuhmann (1856- ). Louis and Katharina were the parents of Margaret Bittlingmeier Zenglein (1877-1948), twins Clara and Jenette Bittlingmeier (1879-1879), Josephine Bittlingmeier (1880-1966), Louis Bittlingmeier (1882-1882), George Bittlingmeier (1883-1921), and William A. Bittlingmeier (1885-1969). The obituary is from the Thursday, October 12, 1899 issue of the Newark Evening News. The brother mentioned in the obit is William H. Bittlingmeier (1856-1931).






The obituary below is from the German-language newspaper, New Jersey Freie Zeitung, dated October 13, 1899, page 5, column 7. The newspaper was published weekly in Newark from 1858 thru 1954. The obituary and the translation are courtesy Tom Peters.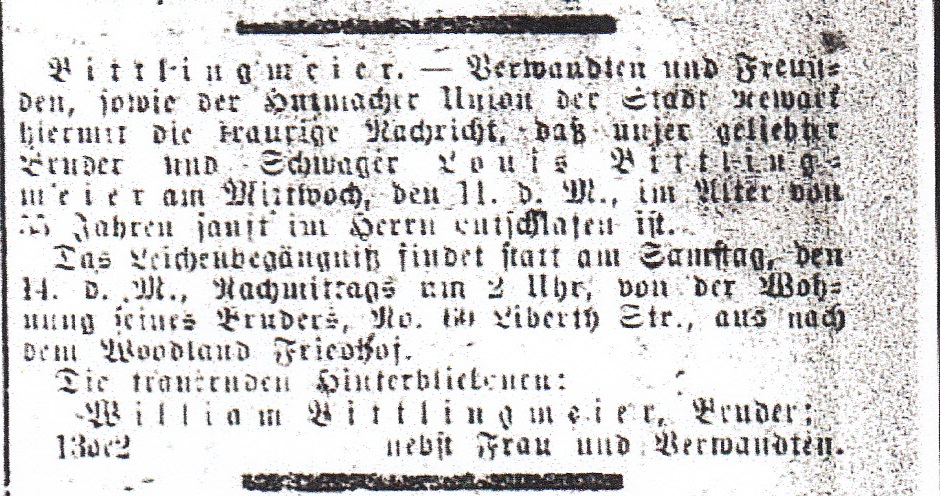 BITTLINGMEIER – Loving relatives and friends and the Hatmaker's Union of the City of Newark, herewith the tragic news that our beloved brother and brother-in-law, Louis BITTLINGMEIER fell asleep in the Lord on Wednesday, on the 11th (October 1899) aged 55 years.

The funeral will be held on Saturday, the 14th of the month (Oct) at 2 p.m. at the residence of his brother, No. 60 Liberty St and then to Woodland Cemetery.

The grieving survivors:

William Bittlingmeier, brother and his wife and loving relatives.


Back to the Top!
---

---
LYNN'S FAMILY WEBPAGE