Matthew F. Murphy Death Certificate

Matthew was born in February of 1863 in Newark, NJ. He was the son of John Murphy (1826-1890) and Mary E. Murphy (1827-1894), and the husband of Mary Ellen McCarthy (1862-1937). Matthew and Mary Ellen were the parents of Margarite Murphy (1888-1897), Helen Murphy (1890-1970), Joseph Murphy (1892-1970), Marie Murphy Vierling (1895-1985), Grace Murphy (1896- ), John M. Murphy (1898-1963), and Eugene Murphy (1903-1971).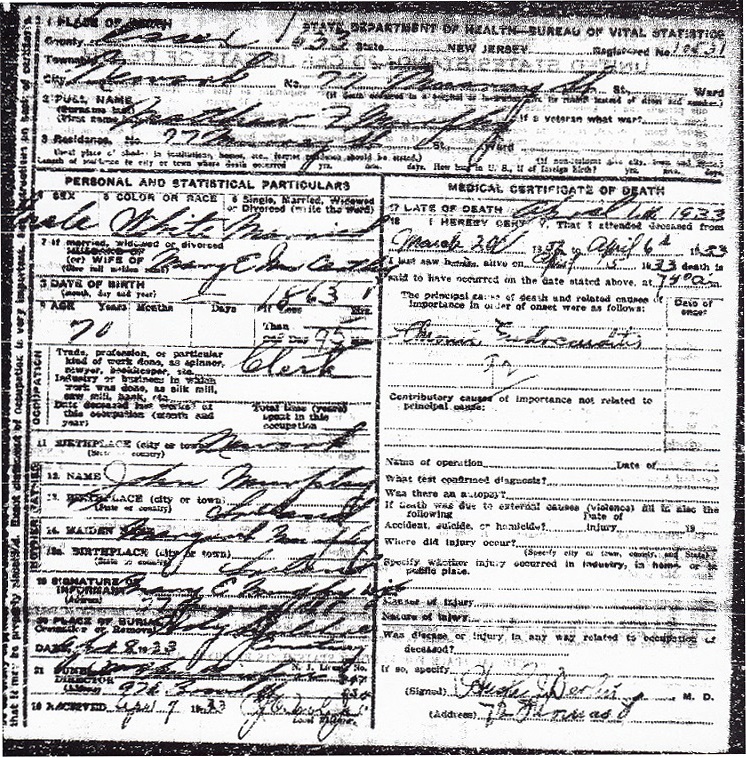 Place of Death: 77 Murray Street, Newark, NJ

Name: Matthew F. Murphy

Last place of residence: 77 Murray Street, Newark, NJ

Sex: Male

Color: White

Marital Status: Married

Wife: Mary E. McCarthy

Date of Birth: 1863

Age: 70 years

Occupation: Clerk

Birthplace: Newark

Father's Name: John Murphy; Ireland

Mother's Name: Margaret (?) Murphy; Ireland

Informant: Mary E. Murphy, wife, 77 Murray Street

Date of Death: April 6, 1933

Duration of illness: March 20 to April 6

Cause of Death: Chronic Endocarditis

Place of Burial: Holy Sepulchre Cemetery



Back to the Top!
---

---
LYNN'S FAMILY WEBPAGE