Sebastian Kern Death Certificate

Sebastian was born in Germany on July 24, 1849. His father was Anton Kern; mother Mary Weber. Sebastian came to America in 1875. His first wife was Bertha Reichert who died before 1900. His second marriage was to Katherine (Katie) Bittlingmeier (nee Shcuhmann) in Newark, NJ on May 18, 1902. It was Katie's second marriage, also. Her first husband, Louis Bittlingmeier, died in 1899. Document courtesy Kathryn Peters.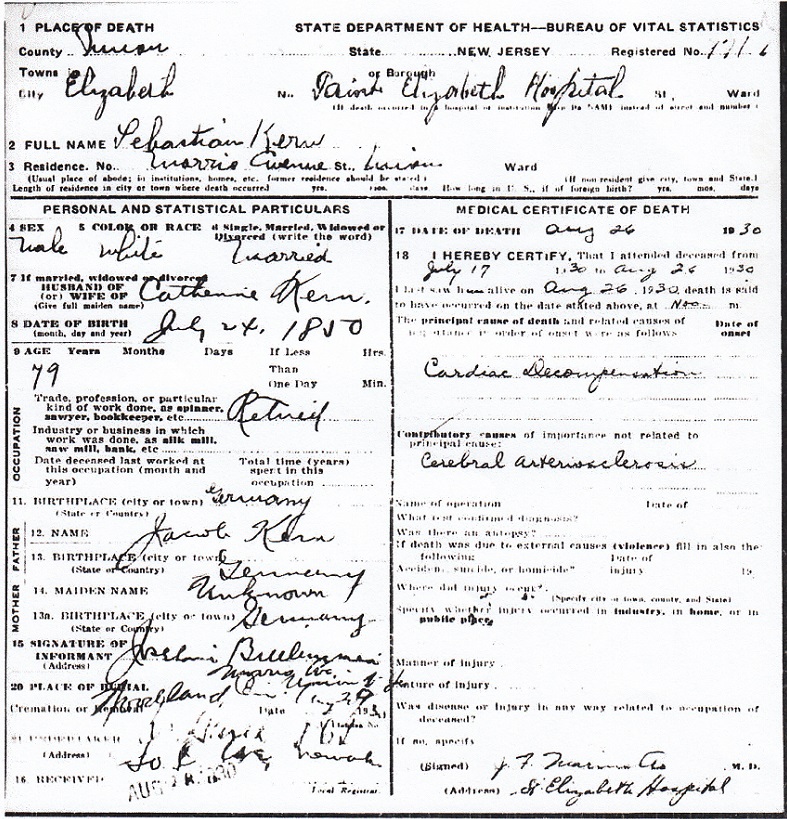 Death Location: Saint Elizabeth Hospital, Elizabeth, NJ

Name: Sebastian Kern

Residence: Morris Avenue, Union

Marital Status: Married

Wife's Name: Catherine Kern

Date of Birth: July 24, 1850

Age: 79 years

Occupation: Retired

Birthplace: Germany

Parents: Father, Jacob Kern; Mother unknown

Death Date: August 26, 1930

Cause of Death: Cardiac Decompensation
Contributory Causes: Cerebral Arteriosclerosis

Informant: Josephine Bittlingmeier, Morris Avenue, Union, NJ

Place of Burial: Woodland Cemetery




Although the document says his date of birth was July 24, 1850, other documents including his marriage certificate (to Katie) and the 1900 Federal Census indicate he was born in 1849. Since the informant for the information on his death certificate is his step-daughter Josephine Bittlingmeier, I am more inclined to accept the 1849 date. That means he was actually 81 when he died, not 79. Since he was admitted to the hospital on July 17, he actually celebrated his 81st birthday in the hospital.

The document also says his father was Jacob Kern, but his marriage certificate says it was Anton Kern.

For whatever reason, he was initially sent to Woodland Cemetery in Newark for burial, but sent from there to Holy Sepulchre to be buried with Katie. Cemetery index card courtesy Kathryn Peters.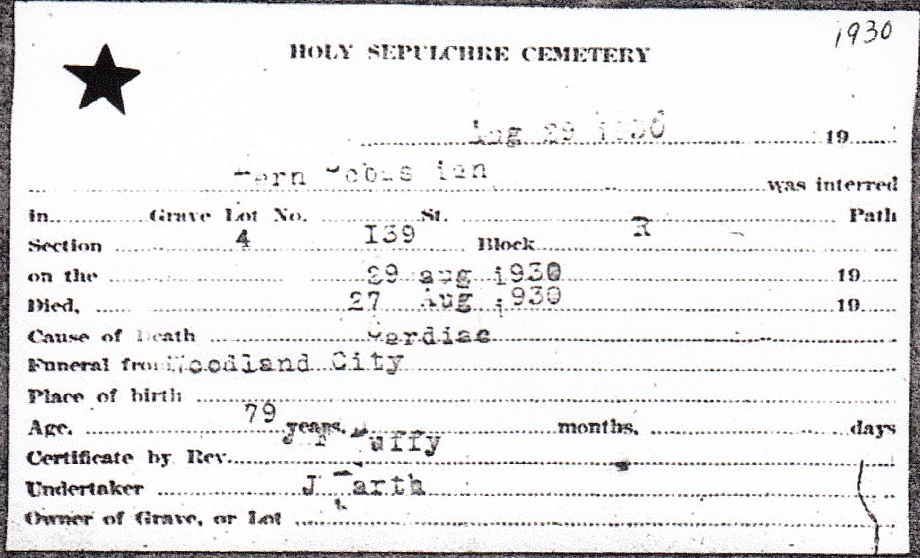 Back to the Top!
---

---
LYNN'S FAMILY WEBPAGE