William H. Bittlingmeier Death Certificate

William was born July 26, 1856 in Newark, NJ, the son of Christoph Ludwig Bittlingmeier (1808-1876) and Margaretha Gauss (1807-1867). William was married to Rosalee Bernes, who died three years earlier, in 1928. The certificate says his place of death was "Alms House" in Newark, otherwise known as the Poor House. As far as I know, William and Rosalee had no children.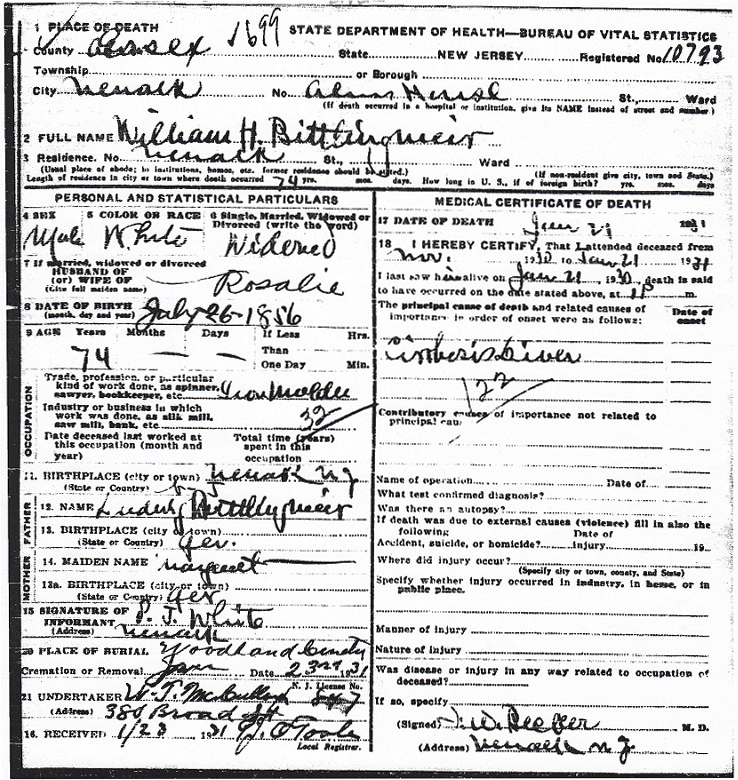 Name: William H. Bittlingmeier

Age: 74 years

Date of Birth: July 26, 1856

Birthplace: Newark, NJ

Last residence: Newark, NJ

Place of Death: Alms House, Newark, NJ

Marital Status: widowed (Rosalie)

Occupation: Iron Molder - 32 years

Father: Ludwig Bittlingmeier

Mother: Margaret

Date of Death: June 14, 1928

Cause of Death: Cirrhosis Liver

Informant: P. J. White

Place of Burial: Woodland Cemetery


Back to the Top!
---

---
LYNN'S FAMILY WEBPAGE