William H. Bittlingmeier Obituary

William was born July 26, 1856 in Newark, NJ. He was the son of Christoph Ludwig Bittlingmeier (1808-1876) and Margaretha Gauss (1807-1867), and the husband of Rosalee Bernes (1853-1928). The obituary is from the Thursday, January 22, 1931 issue of the Newark Evening News.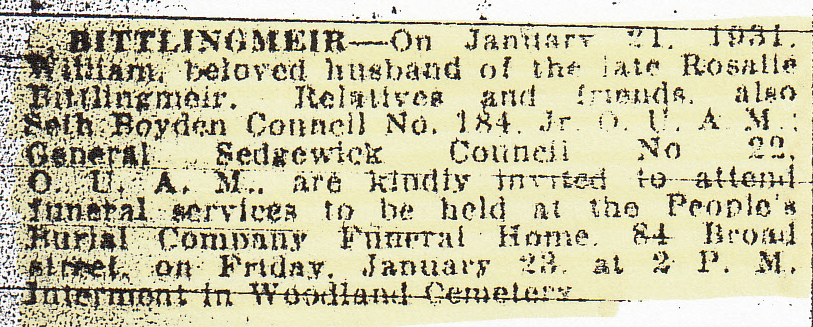 BITTLINGMEIR - On January 21, 1931, William, beloved husband of the late Rosalie Bittlingmeir. Relatives and Friends, also Seth Boyden Council No. 184 Jr. O.U.A.M. (Order of United American Mechanics), General Sedgewick Council No. 22, O.U.A.M., are kindly invited to attend funeral services to be held at the People's Burial Company Funeral Home, 84 Broad Street, on Friday, January 23 at 2 P.M. Interment in Woodland Cemetery.





















---

---
LYNN'S FAMILY WEBPAGE