William J. Murphy Death Certificate
Bill was born October 22, 1928 in Newark, NJ, the son of John M. Murphy (1898-1963) and Frances Smith (1899-1968).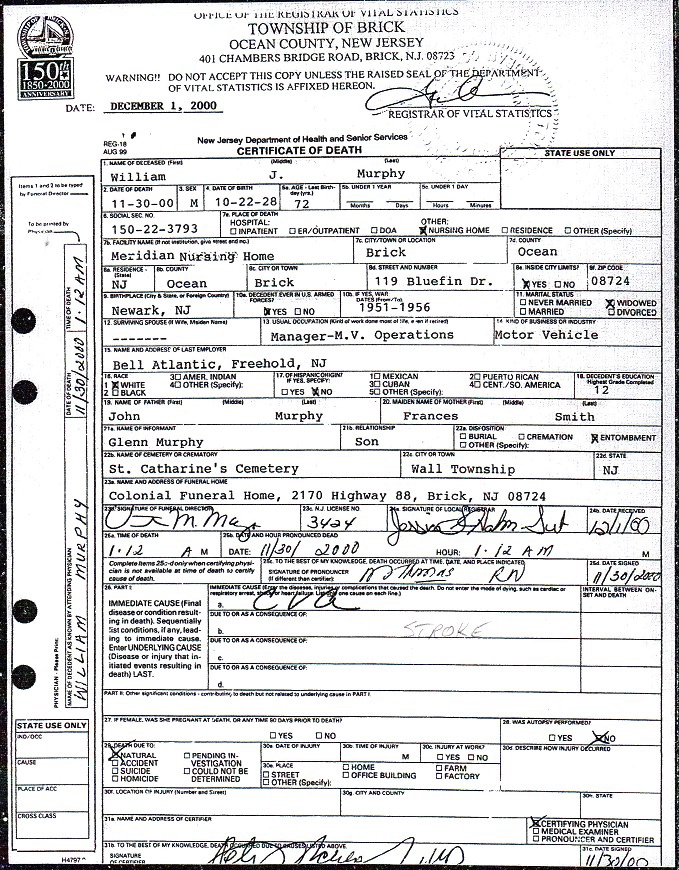 Name: William J. Murphy

Date of death: 11-30-00

Sex: Male

Date of Birth: 10-22-28

Age: 72 years

Social Security No.: 150-22-3793

Place of Death: Meridian Nursing Home, 119 Bluefin Dr., Brick, Ocean, NJ

Birthplace: Newark, NJ

Deceased ever in U.S. Armed Forces? Yes, 1951-1956

Marital status: Widowed

Occupation: Manager, Motor Vehicle Operations

Previous Employer: Bell Atlantic, Freehold, NJ

Race: White

Hispanic? No

Education, Highest Grade Completed: 12

Name of Father: John Murphy

Name of Mother: Frances Smith

Name of Informant: Glenn Murphy (son)

Place of Burial: Entombment in Saint Catherine's Cemetery, Wall Twp, NJ

Funeral Home: Colonial Funeral Home, 2170 Highway 88, Brick, NJ

Time of Death: 1:12 am

Cause of Death: CVA

Was Autopsy Performed? No

Death Due To: Natural



Back to the Top!
---

---
LYNN'S FAMILY WEBPAGE