Anna Bauer Birth Certificate

Anna Bauer was not yet named when she was born April 1, 1888. She was the daughter of Frank Bauer (1863-1894) and Margaret Greuter (1868-1940). Anna would eventually marry William A. Bittlingmeier (1885-1969).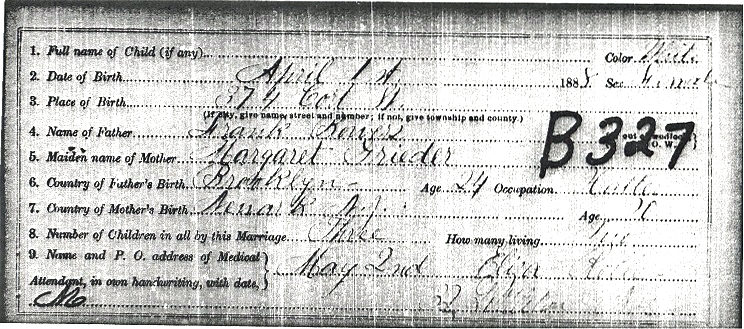 Name: 

Color: White

Date of Birth: April 1, 1888

Sex: Female

Place of Birth: 374 Cort Street, Newark, NJ

Name of Father: Frank Bauer

Maiden Name of Mother: Margaret Grieder

Country of Father's Birth: Brooklyn; Age: 24; Occupation: Hatter

Country of Mother's Birth: Newark, N.J.; Age: 20

Number of Children in all by this Marriage: Three; How many living: Two*
    *It's hard to make out, but the number living appears to be Two.
     What's more curious is that the certificate claims Anna is the third child.
     I only know of one other child born before Anna: Her brother George, in 1886. 



---

---
LYNN'S FAMILY WEBPAGE