Home
---
My Ancestral Chart
---
Murphy Family Chart
----------
Bogner Family Chart
----------
Dyszkiewicz Family Chart
----------
Bittlingmeier Family Chart
----------
Bauer Family Chart
----------
Greuter Family Chart
---
Murphy Family History
----------
Bogner Family History
----------
Dyszkiewicz Family History
----------
Bittlingmeier Family History
----------
Bauer Family History
----------
Greuter Family History
---
Cemeteries
---
Causes of Death
---
Photos
---
Documents
---
DNA Testing
---
Email Me
Bittlingmeier Family History
Last update 1/22/2019

The Germans





Nearly all of the earliest information I have about my Bittlingmeier ancestors comes from distant cousins Tom and Kathryn Peters, and Ed Wolf. Ed is the grandson of Barbara Krauss and Louis Wolf. Barbara Krauss had a sister, Emma Krauss (1863-1889), who married Otto Bauer (1861-1916). Otto was the brother of Frank Bauer (1863-1894), the husband of Margaret Greuter (1868-1940). Frank and Margaret's daughter, Anna Bauer (1888-1963) was married to William A. Bittlingmeier (1885-1969). I talk about William in the section below under the heading "Louis Bittlingmeier and Katharina Schuhmann". William was their seventh child.

Thanks to a distant cousin, Dr. Bernard Humburger, who emailed me from Germany in February of 2016, we now know a little more about Susanna Homberger and her ancestors. I talk about them in the section below under the heading "Johann Melchoir Bittlingmeier and Susanna Homberger."




-------- Friedrich Bittlingmeier --------



My great-great-great-great-great-great grandfather, Friedrich Bittlingmeier was born in the tiny village of Dietlingen in the German state of Baden, probably around 1720. Today, Baden is called Baden-Württemberg. Years later, Friedrich made his way to another small village 20 miles to the northeast, Oberderdingen, and married a woman whose name is unknown to us.





-------- Johann Melchoir Bittlingmeier and Susanna Homberger --------



It was in Oberderdingen that Friedrich's son, Johann Melchoir Bittlingmeier, was born, around 1745. Twenty years later, Johann, known more by his middle name of Melchoir, was working as a carpenter in another village called Hasselbach. Hasselbach is also 20 miles from Oberderdingen, but in a different direction, to the northeast. While living and working in Hasselbach, Melchoir married Susanna Margaretha Homberger on July 23, 1765. Susanna was born in Hasselbach on June 22, 1740.

From Dr. Humburger, we learn that Susanna's parents were Johannes Homburger the Blacksmith, and Anna Rosina. Johannes Homburger was born in Diedenbergen, another town, this one located about 100 miles north of Hasselbach, in the German state of Hessen, just west of Frankfurt. Johannes was born on September 30, 1677. That means he was 62 years old when Susanna was born in Hasselbach.

How and why Johannes made his way from the distant Diedenbergen to Hasselbach is unknown. However, according to Dr. Humburger, Johannes' parents were Thomas Homberger the Cowherd and Anna Maria Kopf. Thomas and Anna Maria are my 7-times great-grandparents (one more than Friedrich Bittlingmeier), the only ones I have that extend back that far. Click on "My Ancestral Chart" in the column on the left.

Dr. Humburger further states that Thomas Homberger the Cowherd was among the earliest German immigrants to the British Colony of New York in 1710. By now, you may have noticed the various spellings of Homburger/Humburger/Homberger. This is the way Dr. Humburger wrote them in his email. I assume these are the spellings in the various documents that he researched.

Five months after Susanna married Melchior, her father Johannes died, on December 12, 1765, in Hasselbach. He was 88 years old.

Curiously, Melchoir and Susanna's first child, Johanna Margaretha Barbara Bittlingmeier, was born on March 29, 1766 in yet another village, this one named Adersbach. Two years later, however, their second child, Philipp Daniel Bittlingmeier, was born back in Hasselbach on April 30, 1768.

For whatever reasons, Melchoir and Susanna were moving back and forth between Adersbach and Hasselbach. The two towns are barely two miles apart, in what is called the Sinsheim district of Baden. The district was noted as the center of the Mennonite Church.

The family seems to have finally stabilized around 1770 because the next four children were born in Adersbach, beginning in 1771.





-------- Johann Phillip Bittlingmeier and Eva Dorothea Gabler --------



One of the children was Johann Phillip Bittlingmeier, born June 7, 1777. Johann Philipp grew up to become a farmer, and a carpenter like his father. When Johann Phillip was 18 years old, his mother Susanna died in Hasselbach on March 24, 1796. She was just 55 years old. On November 17, 1805 his father Melchoir was around 60 when he died in Hasselbach from the effects of Emphysema, a long-term lung disease.

Three months after his father's death, Johann Philipp married Eva Dorothea Gabler in Hasselbach on February 18, 1806. Eva was born January 31, 1782 in yet another village, Walheim, about 30 miles south of Hasselbach. Her parents were Ludwig Gabler and Sabina Stolp.

Johann Philipp and Eva had six children, all born in Hasselbach.




-------- Christoph Ludwig Bittlingmeier and Margaretha Christina Gauss --------



Johann and Eva's second child was Christoph Ludwig Bittlingmeier, born November 10, 1808. Christoph grew up to become a farmer and "daylaborer." On February 21, 1843, he married Margaretha Christina Gauss in Huffenhardt, another small village several miles north of Hasselbach. Margaretha was born in Huffenhardt on June 19, 1807. Her parents were Johannes Gauss and Luise Augusta Witte.

Christoph was 34 years old when he married 35-year-old Margaretha. While we don't know whether this was Christoph's first marriage or not, we do know that Margaretha appears to have had a son named Johan Berhard Gauss, born seemingly out of wedlock in Huffenhardt on March 20, 1835, 8 years before the marriage. In fact, Christoph and Margaretha's first child together was Philipp Adam Bittlingmeier, born in Huffenhardt on January 30, 1838, 5 years before the marriage.

After the marriage in 1843, the couple moved back to Christoph's home village of Hasselbach and the next three children were (legitimately) born there: my great-great-grandfather, Ludwig (Louis) Bittlingmeier, January 24, 1844; Louisa Christine Bittlingmeier, July 16, 1846; and Caroline Bittlingmeier, May 13, 1848. Caroline died 10 months later on March 12, 1849. On February 9, 1847, 64-year-old Eva died in Hasselbach. On May 8, 1858, Johann Philipp Bittlingmeier died there, just short of his 81st birthday.

To read more about the German towns mentioned so far, click here.

After baby Caroline's death, the family left Germany and made their way to America aboard a cargo sailing ship named Cotton Planter. They sailed from Antwerp, Belgium to New York, arriving on September 29, 1852. According to Dr. Humburger, the Cotton Planter was a 3-masted cargo sailing vessel which brought cotton from the southern states of America to Europe, and, in order to avoid returning with an empty cargo, they carried European immigrants to New York. Dr. Humburger points out that the voyage was not very comfortable, but low-priced.

Europeans arriving in New York in 1852 did not experience the elaborate immigration process that would eventually be put into place on Ellis Island in 1892. Prior to Ellis Island, the processing center was at Castle Garden, located along the southern coast of Manhattan Island. But Castle Garden did not open until 1855. When Christoph and Margaretha arrived in 1852, there was no processing center. The shipping company simply presented a passenger list to the collector of customs, the immigrants made customs declarations, and went their way.

From New York, the family made their way to Newark, New Jersey. Why they settled there is unknown. Christoph Ludwig was now known as just Ludwig, and Margaretha, as Margaret. Making the trip from Europe to America were their children, 14-year-old Philipp Adam, now known as Adam, 7-year-old Ludwig, and 6-year-old Louisa. This is the last time we have any evidence of Adam. He seems to have completely disappeared.




-------- Louis Bittlingmeier and Katharina Schuhmann --------



As I stated above, my great-great-grandfather, Ludwig (Louis) Bittlingmeier, was born in Hasselbach, Germany on January 24, 1844. He arrived in America with his parents, his brother Adam, and his sister, Louisa, in 1852, settling in the city of Newark, New Jersey. Once in America, Ludwig changed his name to Louis.

Louis worked for a hat manufacturer in Newark. His mother, Margaret, was 60 years old when she died of cancer in Newark on August 4, 1867. His father, Christoph Ludwig, died from pneumonia on December 9, 1876 at the age of 68. Both parents are buried together at Woodland Cemetery in Newark.

On August 21, 1876, less than four months before the death of his father, Louis married Katharina Schuhmann. Katharina, or Katie, as she was known by the family, was born in Fremont, New York on December 22, 1856, but her parents came from Bavaria, Germany. Her father, Anton Schuhmann, was born there in February 1818; her mother, Josephine Hirschel (Hohschel), was also born in Bavaria, Germany, on February 15, 1816. Anton worked as a farmer in Fremont, but by 1870, the family had moved to Newark where Anton worked first as an engineer in a machine shop, and later, like Louis, as a hatter. Also, in 1870, 13-year-old Katie was working in a tailor shop. They all lived on Fifteenth Avenue in Newark.

To see a map of Germany showing the locations of Baden and Bavaria, click here.


The Children of Louis and Katie:


(1) MARGARET BITTLINGMEIER ZENGLEIN (1877-1948)

On January 1, 1877, Louis and Katie's first child was born, a daughter named Margaret Bittlingmeier. In 1902, 25-year-old Margaret was living with John Anthony Zenglein at 390 South 8th Street in Newark when they married on November 2, 1902. Across the street from where they lived were the widowed Margaret (Surbeck) Greuter, her also widowed daughter, Maggie (Greuter) Bauer, her married daughter Annie (Greuter) with her husband Otto Bevensee, plus six children belonging to each of them.

John, born in Newark on March 17, 1880, at various times worked as a plumber, a steam fitter, and a sheet metal worker in a carriage shop. His parents were Anton/Anthony Zenglein and Mary Ernestine Stoetzel. He was 3 years younger than Margaret. He was tall with a medium build, had blue eyes and brown hair. Although his name was John Anthony, the family called him "Ed".

Margaret and John had eight children. Their first child, Beatrice Zenglein, was born April 28, 1903, in Irvington, NJ. She married George Patrick Rears at Saint Antoninus Roman Catholic Church in Newark on October 11, 1922. George was born in Newark on October 27, 1896, the son of George Rears, Sr. and Rosalia (Rosa) Louisa Bedersky. George served with the U.S. Army from 1918 to 1919. At the time of their marriage, George worked as a silversmith. In 1924, he joined the Newark police force and served 37 years until his retirement in 1961. He was 5' 10" in height, weighing about 200 pounds. He had brown eyes, black hair and a ruddy complexion.

Beatrice was an executive secretary for 18 years with the Mutual Benefit Life Insurance Company in Newark, before retiring in 1967.

Beatrice and George had one daughter and two sons. One of the sons, George P. P. Rears, Jr., was born November 26, 1928 in Newark. He served as a 1st Lieutenant in the U.S. Air Force during World War II. Following the war, he reenlisted, this time in the Army, serving from 1946 to 1952. He and his wife Wendy lived in Willmington, Delaware and Pocono Pines in Pennsylvania.

Around 1974, Beatrice and George moved to 19 Sterling Place in Leisuretowne, a retirement community in Vincentown, located in the Pine Barrens of southern NJ. George Sr. died there on March 13, 1978. Beatrice died there on August 9, 1986, when she was 83 years old. She and George are buried together at the Beverly National Cemetery in Beverly, NJ. When George Jr. died on February 9, 2005 in Pocono Pines, he, too, was buried at the Beverly National Cemetery.

Margaret and John were living at 115 22nd Street in Irvington when their second child, a son named John A. Zenglein, Jr., was born April 10, 1904, but he tragically lived for only 30 minutes before dying of a cerebral hemorrhage.

The third child, Katherine Margaret Zenglein, was born March 26, 1905 in Newark, NJ. By this time, the family had moved to 64 Holland Street in Newark. Katherine married Matthew G. Fitzsimmons. Matthew was born June 7, 1898. They had a son and a daughter. Katherine died May 27, 1962 at the age of 57. She is buried at Saint Theresa's Cemetery in Summit, NJ. Matthew died in St. Petersburg, Florida on May 8, 1970. He is buried with Katherine at Saint Theresa's Cemetery.

By the time the next child was born in 1909, the family was living at 45 Winans Avenue in Newark. The child was Margaret Josephine Zenglein, born August 18, 1909. She married Bartolomeo (Barto) Pante. Barto was born in Agrigento, a city on the south-western coast of Sicily on March 25, 1904. They had a son and daughter.

The family lived at 583 South 19th Street in Newark before moving to Kearny, NJ in 1945. Margaret worked for 20 years as a phone operator for Robins Telephone Answering Service in Nutly, NJ. Barto was an interior decorator. They eventually divorced. At some point, Barto moved to Florida.

Margaret was 61 when she died at St. Barnabas Medical Center in Livingston, NJ, on July 30, 1971. She is buried at Hollywood Memorial Cemetery in Union, NJ. Barto died in Florida at the age of 96 on June 12, 2000. He is buried at Sea Pines Memorial Gardens, in Edgewater, Florida.

The fifth child was Marie Zenglein, born February 17, 1911. She married Charles R. Harvin on February 3, 1933. Charles was born August 2, 1911 in Augusta, Georgia. They had one son and one daughter.

Charles was district chairman of the National Screw Machine Products Association, and a recipient of the Gold Micrometer award. The National Screw Machine Products Association was a trade association which existed to represent the interests of the precision machined products industry. The association provides programs and services to the precision machining industry. It later expanded to include an international representation and is now known as the Precision Machined Products Association. The Gold Micrometer is awarded to those individuals who have made significant contributions to the precision machine parts industry.

Charles was also president of the Kenilworth Manufacturing Association and the Kenilworth, NJ Rotary Club, and a charter member of the Fairmount Country Club in Chatham, NJ.

Marie and Charles lived in Chatham, NJ before moving to Winston Salem, N.C., then to Delray Dunes in Boynton Beach in Florida. Marie died there at the age of 69 on December 23, 1980. Charles remarried, to a woman named Eve. He died at his home in Delray Dunes on February 26, 1991. He was 79 years old.

Two more sons were born: Another John A. Zenglein, born January 19, 1914; and Charles E. Zenglein, born July 26, 1915. By the time Charles was born, the family had moved yet again, to 266 South 7th Street in Newark.

During World War II, John worked for the Elastic Stop Nut Company in Union, NJ. From 1945 until his retirement in 1975, he worked for the Safety Auto School in Newark. Charles, who worked as a salesman for "Wilks and Gadd", married Mariam G. Dill on December 26, 1965. Mariam was born August 31, 1921. Charles was 76 when he died on December 6, 1991. He is buried at Hollywood Memorial Park in Union, NJ. John never married. He died on January 6, 1995 at the age of 80. Charles' wife Mariam died at the age of 85 on April 27, 2007.

The last child of Margaret and John was Ernestine Zenglein, born March 3, 1917. Like her brother John, she never married. She was employed as a key-punch operator for the Red Devil Tool Company in Union, NJ, from 1953 to her retirement in 1973. She died on January 11, 1998 at the age of 80. She is buried at Hollywood Memorial Park in Union.

In 1927, Margaret and John Sr. moved back to Irvington, at 23 Laventhal Avenue. They were still living there 20 years later when John, who had been suffering from the effects of throat cancer, died suddenly at home on August 17, 1947. He was 67 years old. His remains were cremated at Rosehill Crematory in Linden, NJ. A year later, Margaret suffered a heart attack and died on August 29, 1948. She was 71 years old. She was buried along with John's cremains at Hollywood Memorial Park in Union, New Jersey.



(2) JENETTE BITTLINGMEIER (1879-1879)
(3) CLARA BITTLINGMEIER (1879-1879)

On January 22, 1879 the twins Jenette and Clara were born. They did not survive the year. Little Clara died two months after her birth from diphtheria on March 30. Two days later, her twin sister Jenette died of pneumonia. I can only imagine the effect this double tragedy had on the young family. At the time of the twins birth, they were living at 367 Chestnut Street in Newark, but had moved to 456 Court Street before the twins died. Court Street is actually 15th Avenue, so later documents show they lived at 456 15th Avenue.


(4) JOSEPHINE BITTLINGMEIER (1880-1966)

On August 26, 1880 another daughter arrived. They named her Josephine Bittlingmeier. She lived a long time and died in Virginia on January 20, 1966 at the age of 85. As far as I know, she never married. She was buried at Saint Gertrude's Cemetery in Colonia, NJ.


(5) LOUIS BITTLINGMEIER (1882-1882)

A son, Louis Bittlingmeier, was born on February 12, 1882. Like the twins, Jenette and Clara, who lived only two months, Louis didn't fare much better. He died at the age of 8 months on October 22, 1882. Within the span of five years, Margaret had given birth to five children, but only two were now living.


(6) GEORGE ANTHONY BITTLINGMEIER (1883-1921)

Another son, George Bittlingmeier was born on October 24, 1883. George never married. He was a short man of medium build, with blue eyes and brown hair. He was also hunch-backed and had one leg shorter than the other. He was sometimes employed as a candy salesman and appears to have lived most of his adult life with his sister Margaret and her husband John Zenglein; later with his mother Katie and her second husband Sebastian Kern.

George died of kidney disease on September 30, 1921 at the young age of 37.


(7) WILLIAM ANTHONY BITTLINGMEIER (1885-1969)

My great-grandfather William A. Bittlingmeier was born on October 4, 1885. Like his father, William worked as a "moulder" in an iron works in Newark. He was 5 foot 7 1/2 inches tall, weighed 185 pounds, had gray eyes, brown hair, and a ruddy complexion. He also had a tattoo on his left arm.

William was 19 years old when he married 16-year-old Anna Bauer on February 2, 1905 at St. John's Lutheran Church in Newark. Anna was born April 1888 in Newark. Her parents were Germans, Frank Bauer and Margaret Greuter.

William and Anna had four children: my grandmother, Margaret Bittlingmeier, born January 2, 1906; Edna Bittlingmeier, born June 16, 1907; William Henry Bittlingmeier, on July 1, 1916; and Marion D. Bittlingmeier, on July 8, 1921.

The family moved around a lot. In 1910, they were living at 398 South 8th Street in Newark, but by 1917, they had moved to 943 Grove Street in Irvington. In 1930, their home was at 268 Burroughs Terrace in Union. By 1940, William and Anna lived at 184 Alexander Street in Newark.

Margaret Bittlingmeier married my grandfather Jacob (Jack) Bogner around 1929. They had two children: my mother Jacqueline Bogner, born October 15, 1933; and Ronald Bogner, born in 1937. Margaret, who was called Margie by the family, was called Nana by me and my siblings, then Gigi when she became a great-grandmother (GG).

Jack worked as a trucker. He owned a trucking business called "Ronnie's Light Delivery", named after his son. My father helped him with the business for a while. In 1940, Jack and Margie were living at 78 Boylan Street in Newark. Neither Jack nor Margie went beyond the 8th grade in school.

Jack and Margie retired to Cliffwood Beach, NJ, not far from my childhood home in Middletown. I remember visiting them as a small child. We, of course, referred to Margie as "Nana".

Jack loved to give us kids change to go to The Sweetshop, a candy and ice cream store near the "pirate ship". He had tattoos on his arms; an Indian head on his left arm, and a picture of Mutt from the "Mutt and Jeff" comic strip on his right arm. Jack loved jewelry, a trait he inherited from his father (and they must have passed it down to me!). When Nana became a great-grandmother, we began calling her "Gigi" (from GG for Great-Grandmother). She had half of her index finger missing, the result, as she told us, from an accident while working in a factory.

Eventually, Jack and Gigi moved to a retirement home at 7-B North Dakota Avenue in Manchester Township, in Ocean County, NJ. They were living there when Jack died at Community Hospital in Toms River on February 16, 1975. He was 72 years old.

I was 20 years old when I found out Margie had been married twice. You see, I had fallen in love with a divorced man, and my mother, Jackie, was upset when she learned of this. My mother had very controlling ways and very opinionated on how things should be done.

My grandma, Margie, was a very loving, nurturing person who was more open to acceptance of life's flaws. So I spoke to her about my situation with my mother and she confided that my grandfather, Jack Bogner, was actually her second husband. Her first husband was a man named Joe Miele, an electrician by trade, who she married at the Mayor's office in Newark on March 8, 1924. Joe was born in Newark around 1903, the son of an Italian shoemaker. After a few years, the marriage ended in divorce. Before I had a chance to recover from this amazing revelation, my mother walked in on the conversation and cut it short. She told my grandmother (her mother) that she'd never speak to her if the subject was ever mentioned again.

It was never spoken of again until my grandfather's wake. Jack was living with Margie in Manchester, NJ when he died on February 16, 1975. He was 72 years old. My mother and I were at the wake when Joe Miele showed up to pay his respects. It turns out that he knew Jack also. My mom reacted with great anger over this.

I was 20 years old but still a child in my mother's eyes. I was told to leave the room and forbidden to ever mention it again.

I spent years saying to my husband, Larry, that I wish I had more information about my grandmother's first husband. It wasn't until our paths crossed with Kathryn and Tom Peters that I was given a great gift; they actually had a copy of the first marriage certificate. Now I have a better understanding of my grandmother, thanks to Kathryn and Tom. It's unfortunate, however, that I have not been able to locate a copy of Margie and Jack's marriage certificate.

After Jacks' passing, Margie, who we now called Gigi, continued living at the home in Manchester. On August 28, 1989, at the age of 83, she died at Brick Hospital, in Brick, NJ. She was buried with Jack at Graceland Memorial Park in Kenilworth, NJ. Although her birth certificate says she was born January 2, 1906, we always celebrated Gigi's birthday on December 2. On the 1915 New Jersey State Census, her birth date is written as Dec. 1905.

I have no idea what ever happened to Joe Miele, who would have been about 87 when Gigi died.

My grandmother continues to amaze me. She was divorced in an era when it was looked down upon. Then she went on to re-marry, this time to a husband of a different religion. Of course, her parents, William A. Bittlingmeier and Anna Bauer, were of different religions, one Protestant, the other Catholic. When Bill and Anna married, they agreed that religion wouldn't be discussed in the home. Their beliefs were different, yet fundamentally the same.

Edna Bittlingmeier never married. She was 79 years old when she died in Perth Amboy, NJ on January 30, 1987. She is also buried at Hollywood Memorial Park.

William Henry Bittlingmeier married a woman named Mildred who was born around 1919 in Indiana. By 1935, they were living at 103 Kossuth Street in Newark. I don't know if they had any children. I don't know whether William and Mildred divorced or she died (they were still living together in 1940), but he eventually married his second wife, Jean Buckley. They had one daughter and three sons. They owned an ice cream store in the Woodbridge area. At some point, William and Jean divorced. She remarried and had another daughter. Jean died at the age of 70 in South River, NJ on June 4, 1993.

William remarried again, to Susanna Smith. Curiously, Jean and Susanna were born two months apart, Jean in Elizabeth, NJ on April 4, 1922, and Susanna in Johnstown, Pa. on June 4, 1922. Susanna's first husband was Max Burton, with whom she had a son and two daughters.

William was a salesman for Eastern Airlines before retiring to Florida in 1980. While in Florida, he worked as a coordinator for the American Association of Retired Persons (AARP). He was also a member of the "Lighter Spiritualism Church". He and Susanna were living in Orlando, Florida when he died on August 27, 1998 at the age of 82. At the time of his death, he had 14 grandchildren and 7 great-grandchildren. By the time she died on August 26, 2012 at the age of 90, Susanna had moved back to Edison, New Jersey.

Marion Bittlingmeier married Michael Speziok. Michael was born in Irvington on November 27, 1916, the son of Michael Speziok, Sr. and Anna Speziok, who were born in Czechoslovakia. The Spezioks lived at 1137 Grove Street in Irvington. Michael's father worked for the railroad. When he enlisted into the Army in January of 1941, Michael was 5' 7" tall and weighed 128 pounds. He served through the entire war, and was discharged in November of 1945. They had a son and two daughters. Marion died July 1991 at the age of 70. Michael died July 24, 1996, age 79, in Edison, NJ.

At the time that Anna died on June 1, 1963 at the age of 75, she and William were living at 196 Crann Street in Hillside, NJ. William died on May 5, 1969. He was 83 years old. By this time, they had 10 grandchildren and 6 great-grandchildren. They are buried together at Hollywood Memorial Park in Union, NJ.



-------------------------------------------------


Louis was only 55 years old when he died of cirrhosis of the liver on October 11, 1899. He is buried with his parents in Woodland Cemetery. Katie's parents, Anton and Josephine Schuhmann, moved in with her and the remainder of the family at 357 15th Avenue in Newark. Katie's daughters Margaret and Josephine, and sons George and William were still living with her. Margaret would soon marry John Zenglein in 1902, and William would marry Anna Bauer in 1905. Josephine and George never married.

On May 7, 1900, Josephine, who had been suffering from hepatitis, died at the home. She was 84. She was buried at Cemetery of the Holy Sepulchre in Newark. I don't know what happened to Anton after this.

Katie eventually remarried at the age of 45, on May 18, 1902, to 52-year-old Sebastian Jakob Kern, a German iron worker who also worked in Newark as a night watchman. Sebastian was born in Germany on July 24, 1849. His father was Anton Kern; mother Mary Weber. Sebastian came to America in 1875. His first wife was Bertha Reichert who gave him three sons, George Kern, Marlen Kern and Henry Kern. Bertha died sometime before 1900.

By 1910, Katie and Sebastian were living on a farm at 354 Morris Avenue (near Burnet Avenue) in Union, NJ. For the time being, Sebastian was a farmer. Living with them were Katie's daughter, Josephine Bittlingmeier, and two boarders: 49-year-old Joseph Gruber and 2-year-old Amanda Hammins. Joseph was born in Austria; Amanda in Pennsylvania.

By 1920, Katie and Sebastian were living at 159 Bergen Street in Newark. Sebastian was now working as a "watchman" in a factory. Katie's daughter Josephine had been replaced by her son George Bittlingmeier. Curiously, Josephine was now living at 354 Morris Avenue in Union, NJ, with Joseph Gruber, who lists himself as a retired priest. More curiously, 11-year-old Amanda Kern was living with them and Amanda was listed as Joseph's adopted daughter.

On August 21, 1925, Katie died of a heart attack. Ironically, this would have been her and Louis' 49th wedding anniversary. She was buried with her mother at the Cemetery of the Holy Sepulchre. Remember, Louis was buried at Woodland Cemetery.

By April of 1930, the Federal Census shows Sebastian had replaced Joseph Gruber at the home at 354 Morris Avenue in Union. Amanda Kern, who is now 21 years old, is listed as Sebastian's daughter. She works as a clerk typist for the coal company. I'm still unsure where Amanda came from and why she was born in Pennsylvania. Josephine Bittlingmeier, now 47, is still living there as well. She is a saleslady for a department store. I don't know what happened to Joseph Gruber.

Four months later, Sebastian died at Saint Elizabeth Hospital in Elizabeth, NJ on August 26, 1930, almost exactly 5 years after Katie. He was admitted to the hospital on July 17, 1930, so he, in fact, celebrated his 81st birthday there before his death. For some reason, he was sent to Woodland Cemetery for burial, but a few days later transferred to Holy Sepulchre to be buried with Katie.



-------------------------------------------------





-------- Louisa Bittlingmeier and William Schneider / Jacob Bechtold --------




Many thanks to another distant cousin, Bob Bechtold, for providing more information on Louisa Bittlingmeier.


As I stated above, the third child of Christoph Ludwig Bittlingmeier and Margaretha Gauss, Louisa Christina Bittlingmeier, the sister of Louis and William Bittlingmeier, was born in Hasselbach, Germany on July 16, 1846. She travelled to America with her parents sometime around 1850.

When she was 17 years old, Louisa met a young civil war soldier named William Schneider, the son of Phillip and Sophie Schneider, who was born in 1836. William had been serving with the New Jersey Volunteers, Company E, Second Regiment since the beginning of the war and had fought in many battles, including Second Manassas, Antietam and Gettysburg. Prior to his enlistment, he worked as a "silver plater".

On January 5, 1864, the couple was married at the German Evangelical Reformed Church on Mulberry Street in Newark. Four months later, Corporal William Schneider was killed in action in a skirmish at Lauren Hill (Spotsylvania Courthouse) in Virginia, on May 8, 1864. He was only 27 years old and Louisa was a very young widow. Click here to see William Schneider's Civil War Service Record.

Besides being a young widow, Louisa was also pregnant. On November 22, 1864, she gave birth to William Schneider, Jr., 6 months after William Sr.'s death.

A year later, 19-year-old Louisa married another soldier, Jacob Bechtold, in Newark, on July 26, 1865, two months after the war had ended. Jacob was 29 at the time of the marriage.

Jacob, born around 1837 in Schleitheim, Switzerland, was the son of Johann and Barbara Bechtold. He arrived in America aboard a ship called the Malabar, which arrived in New York on October 26, 1863.

During the Civil War, Jacob served in Company C of the 8th New Jersey Volunteers, having volunteered for three years as a substitute (i.e. he was paid to take the place of a draftee) for John O'Donnell, Esq., of Hoboken, New Jersey. He enlisted on August 5, 1864 in Newark. Jacob was at Appomattox on April 9, 1865 to witness Lee's surrender. He was mustered out of service on July 17, 1865 in Washington, D.C., a week before marrying the widow Louisa. Click here to see Jacob Bechtold's Civil War Service Record.

Early in the marriage, Jacob worked as a "saloon keeper", a "baker", and later as an "engineer".

Louisa's baby from her first marriage, little William Schneider, Jr., was 1 year old when he died on January 8, 1866. He was buried in an unmarked grave in Woodland Cemetery in Newark. At the time, Louisa was pregnant with her second, and Jacob's first, child.

Louisa and Jacob had five children:

(1) John H. Bechtold, born in Newark on August 26, 1866. By 1880, 13-year-old John, and his brother Louis who was one year younger, were working in a chair making factory in Newark to help support the family. A curious news article appeared in the Brooklyn Union-Argus newspaper on May 23, 1881 stating that young John was "shot in the abdomen" early Sunday morning while in "The Meadows" below his home on Adams Street in Newark. While we have not been able to locate any other information regarding this incident, it does give us a glimpse in how they were living at the time. In 1881, "The Meadows" was a huge swamp, or wetlands. The European settlers, like the Native Americans who preceded them, used The Meadows as a source of fish, oysters, fowl, and small mammals for food, furs, and sport. Perhaps young John was hunting in this area and was involved in a hunting accident.

This wetlands area no longer exists today. If you look at a map of present-day Newark, you will find the end of Adams Street at the outer limits of Newark International Airport. The swamp was drained and the airport, which opened in 1928, was built on top of it.

As curious as this shooting incident was, John must have led a rough life. In another article, this one from the New York Herald, dated August 7, 1882, "In a quarrel in Pearl street, Newark, N. J. last evening, John Bechtold was stabbed three times by Theodore Rehmann. The assailant was arrested." We have been unable to find any other information about this.

By 1887, John finally settled down and married Catharine Mulhearn at St. James Catholic Church in Newark. Catherine was born in Newark on the Fourth of July in 1863, the daughter of William Mulhearn and Catherine Farley. She was three years older than John. Both families were parishioners of the church. In fact, both John and Catherine were christened there after they were born. The couple lived in a small house at 33 Avenue C in Newark.

John and Catherine's first child was born in Newark on August 20, 1888. She was given her mother's name, Catherine Bechtold. On July 31, 1891, a pair of twins named John Joseph Bechtold and Mary Bechtold was born. On September 6, 1894, at the age of 31, Catherine (the mother) died. She was buried at Holy Sepulchre Cemetery in East Orange. Six months later, little 6-year-old Catherine also died, on March 7, 1895, from bronchial pneumonia. She was placed in the same grave with her mother.

On November 6, 1895, in the same church as his first marriage, John married again, this time to Anna House. Anna was born in Newark on September 5, 1863, the daughter of Nicholas Haus and Gertrude Maur. Note the German spelling of Haus and the Anglicized version of House.

Anna became the step-mother for John and Catherine's twins. I have found no evidence that John and Anna had any more children.

John's occupation was "Stationary Engineer". A Stationary Engineer primarily refers to an operator of boilers, heating systems, water and gas pumps, etc. These Engineers typically resided in a fixed Control Room from which equipment was operated and monitored, hence the designation, "Stationary".

By 1900, John, Anna and the twins were living at 185 Pacific Street in Newark, a house they owned through a mortgage. By 1910, they were still living in Newark but at 132 Pennsylvania Avenue. John was now employed as a Newark policeman. He was appointed a policeman October 12, 1900. He became a mounted officer in the First Precinct August 1, 1902, and a motor cycle officer in the First and Third precincts October 3, 1907. A year later he was assigned as doorman at the Sixth Precinct Station on October 1, 1908.

The twins, now 18 years old in 1910, both held steady jobs; young John as a clerk in a flower shop, and Mary as a milliner in a women's hat shop. Living with them was a 22-year-old boarder named Gertrude House. We have been unable to identify this young woman who bears the same name as Anna's mother.

By 1917, John J. was working as a chauffeur for a Mrs. Auerbacher in Newark. He was of medium height (5'8") and build, with blue eyes and brown hair. On November 11, 1917, he followed in his father's footsteps by joining the Newark police force. Initially, he was assigned as a patrolman to First Precinct Station. The following year he enlisted in the Army, on March 5, 1918, and served with the Army infantry overseas during World War I. After the war he returned to his post at the precinct.

On February 12, 1919, Anna died from breast cancer at the age of 55. Her husband John was 52 and living alone at the home on Pennsylvania Avenue in 1920, and still working as a Newark policeman. Anna was buried at Holy Sepulchre Cemetery in a plot near John's first wife, Catherine Mulhearn Bechtold.

After nearly two years of John's second widowerhood, he married for a third time, to Antoinette H. Baechlin. Antoinette was the daughter of Oscar Baechlin and Lydia Falk. She was born in Newark on December 31, 1886. Thus, she was 20 years younger than John. He was 52 years old when they married; she 33. It was her first marriage. They were married at the Blessed Sacrament Roman Catholic Church on Van Ness Place in Newark.

In 1931, the son, John J., was assigned to the newly organized headquarters auto squad. He also served on the Headquarters Detective Bureau, holding the rank of Lieutenant. He worked primarily on the vice squad, and later was in charge of the police garage on Franklin Street. As if this wasn't enough to keep him busy, he also was a member of the Police Anchor Club, Knights of Columbus, Patrolmen's Benevolent Association, Superior Officers Association, and Newark Police Post No. 1439 Veterans of Foreign Wars.

John J. married Mary O'Malley, the daughter of Martin and Annie O'Malley. Martin was also a Newark Policeman. Mary was a one-time Democratic state committeewoman and the sister of Police Inspector Eugene O'Malley.

John H., the father, retired from the police force on September 1, 1931. In 1934, he was living at 9 Woodland Terrace in Livingston, NJ when he was diagnosed with Arteriosclerosis and Myocarditis. He died four years later, July 25, 1938, from the effects of those conditions, plus Pulmonary Edema. He was 71 years old. He was buried next to his second wife, Anna House Bechtold, at Holy Sepulchre Cemetery. His third wife, Antoinette, died in 1952 at the age of 65.

62-year-old John J., the son, died at St. James's Hospital after a long bout with liver cancer, on August 9, 1953. He and his wife Mary were living at 244 Roseville Avenue in Newark. At the time of his death, he was still working as a detective lieutenant with the Newark Police Department, a thirty-five year veteran. John, Catherine and Anna, and the children, Catherine and John J. are all buried at Holy Sepulchre Cemetery in East Orange, NJ. I don't know what became of John J.'s twin sister Mary, or of his wife Mary.

(2) Louis Bechtold was born in Newark on September 26, 1867. Sometime before 1890, he moved to Yonkers, a city in New York on the Hudson River, about 25 miles from Newark. Why did he go to Yonkers? We're not sure, but Cousin Bob Bechtold believes Louis and a lot of other young people of the time were lured to Yonkers by the chances for work. The population was growing at the time and Yonkers was booming, becoming an industrial town in the late 19th Century. It was the home for the Waring Hat Manufacturing Company, the largest in the world, the Otis Elevator Company, the Alexander Smith Carpet Company (also the largest in the world), and others. Indeed, Louis found a job with Waring. There is some evidence that Louis was the treasurer for the hat company's fire department

It was in Yonkers where Louis met and married Helena (Lena) K. Henn. Lena was born in Yonkers in September of 1863. Her parents were Prussian immigrants, John and Helena Henn, who were living at 19 Washington Street in Yonkers at the time of the marriage. Lena's father was a shoemaker. Lena was working at the Alexander Smith Carpet Company (referred to as "the carpet shop" by family descendants) when she met Louis.

One of the employees of the carpet shop, in 1895, was the future Poet Laureate of England, John Masefield. He served as England's poet laureate from 1930 until his death in 1967, holding the post for longer than anyone except Alfred, Lord Tennyson. Masefield later published a book about his experiences in Yonkers and the carpet factory, called In The Mill. Bob Bechtold remembers Mansfield mentioning in his book about an elderly woman who stood in the street each day (in 1895) as the workers poured into and out of the factory, looking for her son, who'd never returned from the Civil War.

Louis and Lena had four children:

William Louis Bechtold, born in Yonkers in September 25, 1889.

Helen M. Bechtold, born in Yonkers in January 1893.

Jessica A. Bechtold was born in Yonkers in April 1894. She was known as Jessie.

This remarkable photograph below, actually a tintype, was given to Cousin Bob Bechtold by his grandparents when he was a boy. The little boy in the photo is Bob's grandfather, William Bechtold. On the right is little William's father, Louis Bechtold, Lena's husband. William Bittlingmeier, on the left, is William H. Bittlingmeier, the brother of Louisa Bittlingmeier and my great-great-grandfather Louis Bittlingmeier (Louis and William were popular names in the Bechtold and Bittlingmeier families). I know very little about William H. Bittlingmeier (scroll to bottom of this page to see what I do have). To see a larger version of the photo, click on the image.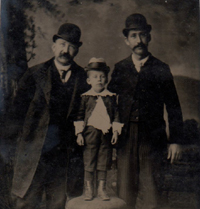 In the Fall of 1895, Louis ran for the position of alderman in the 4th Ward, running under the Socialist Labor Party label. An alderman is an elected official who represents the people of a section of a town or city, such as a district or ward. In 1895, Louis and Lena lived at 11 Washington Street in Yonkers, which at that time was located in the 4th ward of the city. The election was held on November 5, 1895 and Louis lost to the Republican candidate who received 603 votes. The Democratic candidate received 417 votes. Louis came in third with just 30 votes.

Several weeks later, Louis was out fishing with several co-workers from the hat company. Apparently, this was a custom he had been practicing ever since moving to Yonkers. Every Sunday, he and his friends would rent rowboats at the public dock near the end of Main Street and row across the Hudson River to the New Jersey side and fish near The Palisades. Sometimes, they would rent a room at the Hoffman Hotel on Main Street.

One Sunday, December 15, 1895, around 6 PM, they returned from a day's fishing, five men in two boats. The weather had turned quite rough and one of the boats containing two of the men turned in at the Ludlow Street dock, while Louis and two of his friends continued on in the other boat towards the public dock. Later that night or early next morning, it became apparent that the three men never returned to the hotel or their homes. Several workers from the Waring Hat Company joined the police in searching for the men. Nonetheless, their bodies were not recovered until Tuesday, December 17. It was presumed their boat capsized in the stormy waters and they drowned.

Louis was buried in the Henn family plot at Oakland Cemetery in Yonkers.

Besides Louis, the other men were Frederick Fisher, a widower, and Alexander Houston, who had been married less than one month. In some of the news articles, his name is spelled Houston, in others House. Although we haven't been able to verify this, it's possible Alexander was related to Anna House, the second wife of Louis' brother, John Bechtold. According to The Yonkers Statesman newspaper, all three men, including Louis, were reported to be "temperate". That is, they abstained from alcoholic beverages.

Lena was now left a young widow with three small children to raise (William, the oldest, was only six years old). To make this story even more tragic, Lena was six months pregnant with their last child. Louis was a member of the Hatters Union in Yonkers and his fellow hatters took up a collection for his poor family.

Three months after Louis' tragic death, Lena gave birth to their fourth child, Florence L. Bechtold, in Yonkers in March of 1896.

Somehow, Lena was able to go on alone, raising her four children. She wasn't completely alone, however. Her Henn family still lived in Yonkers, including four sisters and two brothers. Bob Bechtold believes Lena worked at a butcher shop in Yonkers where her brother also worked. We're not sure which brother this might have been. She had two brothers, Otto Henn and John Henn. Both were butchers and both worked at one time for Frederick Gross, the owner of the butcher shop in Yonkers. Recently, Bob bought a business card of the butcher shop advertised on eBay. When he got the card, he was surprised, and elated, to discover a name written on the blank side of the card. The name was Jessie, and Bob believes this is most probably Lena's daughter, Jessie Bechtold. Click on the images below to see larger versions.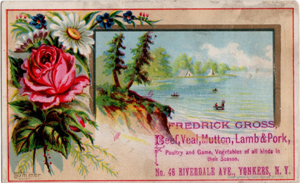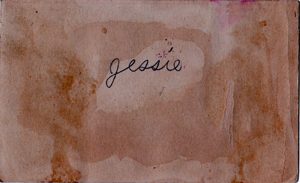 According to Bob, Louis and Lena lived above the butcher shop, at 46 Riverdale Avenue, at least one year before his death.



-------------------------------------------------


In June of 1912, Lena's son William Louis Bechtold was working for the New York Central Railroad when he married Ethel A. Bailey on June 19, 1912. Ethel was born in Yonkers on August 3, 1890, the daughter of William Bailey and Cecelia Nodine.

According to Bob Bechtold, the Nodines were an old Yonkers family, going back to at least the 18th Century, possibly arriving in Westchester County as early as the 17th Century. Bob grew up on Nodine Hill in Yonkers, on land that his great-great-great-great grandfather, Peter Nodine, bought in 1791. The land he farmed in the late 18th- and early 19th Century eventually became a dense urban district. Bob grew up there in an old, 7-family tenement.

Cecelia Nodine, Bob's great-grandmother, was one of three children (all girls) of Benjamin C. Nodine, who served as a sergeant with the 17th New York Infantry, (the "Westchester Chasseurs") the regiment that led the charge on August 30, 1862 against Stonewall Jackson's troops at the Deep Cut, in Second Manassas. A number of Yonkers Nodines served with the 17th New York, and several were wounded in that attack that day, including Benjamin.

While Benjamin was at war, his wife, Emily, and three daughters received an allotment of $2.50 a week from the (then) Village of Yonkers. Several months later he was "discharged for disability," returned to Yonkers, and worked there as a gunsmith, presumably for the Starr Arms company. Early in 1864, however, he re-enlisted, this time in the 6th New York Heavy Artillery, another Westchester regiment. He was wounded at Spotsylvania Courthouse and died of his wounds in Washington, D.C. on May 27th, 1864.

Initially, William and Ethel lived with her parents at 43 Western Avenue in Yonkers, later moving to 43 Prospect Street. William was a tall slender man, with grey eyes and dark brown hair. He worked for the New York Central Railroad for 42 years, starting when he was 14 years old until his retirement in 1947 as a milk superintendent. He was also a leading member of the Patriotic Order Sons of America.

William and Ethel had six children between 1913 and 1932. By 1930, they were living at 107 Oliver Avenue in Yonkers. William was working as a "milk service foreman" for the railroad company. In 1939, his annual income was $2500. In 1940, they were living at 54 Groshon Avenue in Yonkers.

William and Ethel's first child, Louis W. Bechtold, was born in Yonkers on June 29, 1913. Around 1935, he married a woman named Alice. Alice was born in Yonkers on May 19, 1911. They rented an apartment at 230 Woodland Avenue in Yonkers. Louis worked as a clerk for a carpet mill, earning about $1300 dollars per year. In December of 1939, Alice gave birth to a baby boy. Louis was 30 years old when he was drafted into the Navy in March of 1944 during the Second World War. During the war, he served on a destroyer escort in the Pacific. He was released from the Navy after the war ended in September of 1945. On September 29, 1981, 70-year-old Alice died at the Mt. Carmel Medical Center in Columbus, Ohio. Louis was also 70 but living in Dover, Delaware when he followed Alice two years later on November 13, 1983. They are buried together at Wesley Chapel Cemetery in Hilliard, Ohio. I have no idea how that got from Yonkers to Ohio and Delaware. Hilliard is about 15 miles northwest of Columbus.

William and Ethel's second child, a boy named Ethelbert W. Bechtold, was born April 11, 1915. He was known to the family as Bert. In 1939, he worked only 8 weeks, earning $120 as a part-time handy-man for a hospital services company. He was living in Sidney, New York when he died at the age of 93 on November 19, 2008.

The third child, a daughter, Ethel Cecilia Bechtold, was born June 17, 1917. In 1939, she worked 12 weeks as a "finisher" at a men's hat factory, earning $60. Sometime after 1940, she married Michael Grznar. Michael was born February 9, 1911. They were living in Mahopac, in Putnam County, New York when Michael died in October 1975. Ethel was living in Florence, South Carolina when she died on June 3, 2001 at the age of 83.

William and Ethel had three more children, Robert E. Bechtold, born January 14, 1920, George Cecil Bechtold, born November 23, 1924, and another son born in 1932. Robert was drafted into the Army on February 11, 1942, serving from 1942 to the end of World War II in August of 1945. His service record states he was six feet tall and weighed 154 pounds. He died 3 days before his 70th birthday on January 11, 1990. George enlisted in the Army on his 18th birthday and served in France and Germany during World War II, with Company C of the 191st tank Battalion, from 1942 to 1946. His service record states he was six feet tall and weighed 126 pounds (a skinnier version of his brother). In January of 1948, he joined the New York National Guard. He was living in Cresco, Pennsylvania when he died on March 22, 1993, and is buried at the Indiantown Gap National Cemetery in Annville, Pennsylvania.

In 1948, William and Ethel moved from Yonkers to Unadilla, New York. Unadilla is located in Otsego County and is 160 miles northwest of Yonkers. They were still living in Unadilla when William died suddenly in the hospital in nearby Sidney, New York on January 12, 1972. He was 82 years old. Three months later, Ethel died on April 14, 1972. She was 81 years old. They are buried at Rogers Hollow Cemetery in Unadilla.



-------------------------------------------------


In 1914, Lena, Helen, Jessie, and Florence were living at 42 Linden Street in Yonkers. In July 1915, Lena was elected as Grand Chief of the Pythian Sisters, an organization she had belonged to for some years. The Pythian Sisters are the female auxiliary to the Knights of Pythias, a fraternal organization and secret society founded at Washington, DC, on 19 February 1864. Their motto is "Friendship, Charity, Benevolence".

By 1920, Lena, Helen, Jessie and Florence were living back on Lawrence Street.

On June 19, 1920, Florence Bechtold married Robert Allen Blackford. Robert was born in Hastings, New York, the son of the Superintendent of the Yonkers Water Bureau, John J. Blackford. Although there is a town called Hastings way up New York State, above Syracuse, it's more likely Robert was born in Hastings-On-Hudson, just a few miles north of Yonkers.

The wedding ceremony took place at the home of Florence's mother, Lena, at 5 Washington Street in Yonkers. According to the Yonkers Statesman newspaper, "Daisies predominated in the floral decoration of the rooms, the bridal procession from the parlor to the living room being through an arbor of these flowers. The couple was married beneath a bower of palms and daisies." Reverend Francis T. Brown, rector of Saint Andrew's Memorial Episcopal Church, officiated.

The bride was given away by her brother, William L. Bechtold. "Her gown was of white georgette over satin, and she carried a shower bouquet of sweet peas and lilies-of-the-valley." The bridesmaid was Evelyn Cobb, and Robert Tompkins was the best man.

The bride and groom honeymooned through New England. Upon their return, they temporarily moved in with Lena at 5 Lawrence Street in Yonkers. As far as I know, they had one son, born in Yonkers around 1924. By 1938, they were living in Hempstead, Long Island, where Robert worked as an agent in an insurance office.

Three years later, another June bride, Florence's sister, Jessie Bechtold, married Daniel C. Carey, on June 2, 1923. As with Florence, the ceremony took place at the home of their mother, Lena, still at 5 Lawrence Street in Yonkers. Again, the ceremony was performed by Reverend Francis T. Brown, rector of Saint Andrew's Memorial Episcopal Church.

The marriage was a big social event in Yonkers. The Yonkers Statesman newspaper headline was "St. Andrew Sunday School Teacher Weds Army Captain". Daniel, a native of Boston, was a graduate of Boston College. He was a captain in the infantry of the 77th Division and served abroad during "The Great War" (World War I). He became the registrar and business manager of the Riverdale Country School for Boys in Fieldston, New York.

Jessie was a graduate of Butler's Business School and for a time studied a teachers' extension course at Columbia University. She was connected with the Riverdale Country School for three years prior to the wedding, and was a popular member of the Bible Students' Club. She had long been active in Y.W.C.A. work. And as the news headline indicates, she was a Sunday School teacher in St. Andrew's Church.

The Statesman described the wedding at Lena's home: "The rooms were decorated with palms, ferns and colorful Spring flowers. Miss Bessie Bruce played the Lohengrin Wedding March, and through an aisle of flowers, the bride entered with her brother, William L. Bechtold, who gave her in marriage".

"The bride wore an embroidered white gown of flat crepe and carried a shower bouquet of white sweet peas." Helen Bechtold, the only sister still unmarried, was Jessie's only attendant. J.A. Carey, the groom's brother, was his best man.

The couple honeymooned in Vermont and returned to reside in Fieldston. By 1940, they were living at 5073 Fieldston Road in Fieldston (which is actually located in The Bronx). In 1939, Daniel's position as business manager of the Riverdale School was earning him $5000 per year. They had three children: a daughter, born around 1924; a son, around 1926; and another daughter, around 1930.

In August of 1923, according to The Statesman, Lena spent one week vacationing in Asbury Park, New Jersey. This would have been one month before her 50th birthday.

On February 4, 1925, Helen M. Bechtold married Robert B. Bruce, a Yonkers real estate dealer, in a quiet ceremony at Helena's home at 10 Stone Street in Yonkers.

Robert was born in Scotland around 1893, arriving in America with his parents, Alexander and Jessie Bruce, two years later. He grew up in Yonkers, and was employed initially as a building contractor, later branching into real estate. He was prominent also in civic and fraternal affairs and was an active member of the Dayspring Presbyterian Church. During World War I, Robert served in the navy as a lieutenant, junior grade. He was a member of the Cook Post, American Legion. He was an active member of the City Club, the Lions, and was prominent in the activities of the Thistle Lodge, Masons.

Helen and Robert had a daughter who was born in Vermont around 1928.

By 1930, they were living at 1 Hughes Terrace in Yonkers, a home owned by Robert and Helen valued at $22,000. Helen's mother Lena was living with them.

By 1935, they were living at 40 Locust Hill Avenue in Yonkers. A week after being admitted to the Yonkers Professional Hospital for pneumonia, Robert died on August 13, 1935, at the age of 42. He was buried at Oakland Cemetery in Yonkers.

On January 3, 1938, Lena Bechtold died, 42 years after her husband, Louis. She died at Yonkers General Hospital after a protracted illness. She was 74 years old. At the time of her death, she was living at 50 Locust Hill Avenue in Yonkers with Helen. I know it says 40 Locust Hill Avenue in the previous paragraph about Robert, but I'm only going by what it says in their respective obituaries. Lena's obituary appeared in the Yonkers Statesman and the New York Times. Prior to her death, Lena had become a communicant of Saint Paul's Episcopal Church in Yonkers. She was buried next to Louis at Oakland Cemetery, in Yonkers.

On the 1940 Federal Census, Helen and her daughter were living at 3 East Avenue, Apartment 2F, in Yonkers. Helen is listed as a widow and working as an insurance broker. The rent on the apartment was $45 per month.



-------------------------------------------------

Louisa and Jacob's other children:

(3) William Bechtold, born February 15, 1869. He lived for six months before dying on August 13, 1869.

(4) Louisa Bechtold, born April 4, 1870. Daughter Louisa married Charles Dumont in Newark in 1893. Charles was born in Newark in May of 1869. They had three children: Paul Jacob Dumont, born April 14, 1893; Frederick Leo Dumont, born April 25, 1897; and Consuelo Dumont, born April 5, 1899. By 1900, they were living at 107 Murray Street in Newark. Charles worked as a "shoe cutter" in a factory. Louisa lived until the age of 96. She died in Newark in November of 1966. Paul married Alice J. Davison. They had two children. Frederick married a woman named Edna. He died in Belmar, New Jersey on April 8, 1981, just before his 84th birthday. Consuelo married George Mulligan. She died in Pleasantville, New Jersey in May of 1976.

(5) Edward Bechtold, born May 2, 1872.



-------------------------------------------------


On February 8, 1887, at the age of 50, Jacob Bechtold died in Newark from tuberculosis. He is buried at Woodland Cemetery in Newark.

Three years after Jacob's death, Louisa married for the third time, to another Jacob, this one named Jacob Gammel. Jacob was born April 1844 in Wurtemburg, Germany. He arrived in America in 1870. His occupation was listed on the Federal Census as "Brewer". Sometime before 1879, Jacob married a woman named Theresa. I don't know her maiden name, but she was born in Wurtemburg on October 16, 1843. In August of 1879, they had a son, Jacob Gammel Jr.

Theresa died of a cerebral hemorrhage on January 27, 1890, at the age of 46, and is buried at Holy Sepulchre Cemetery. Jacob is listed as the owner of the plot.

Four months after Theresa died, Jacob married Louisa on May 20, 1890. Six months after this marriage, Louisa died from kidney disease on November 21, 1890, and buried in the Bittlingmeier family plot at Woodland Cemetery. She was only 44 years old. Her children with Jacob Bechtold were in their early 20's when she died.

In 1900, Jacob Gammel Sr. and Jr. were living at 33 Elizabeth Street in Newark. Jacob Sr. died at St. James Hospital in Newark on December 19, 1901, age 55. He was buried at Woodland Cemetery.





-------- William H. Bittlingmeier and Rosalie Bernes --------



The last child of Christoph Ludwig Bittlingmeier and Margaretha Gauss, and the only one born in America, was William H. Bittlingmeier. William was born in Newark, New Jersey on July 26, 1856. On January 1, 1879, William married Rosalie Bernes, who was three years older than him. She was born in Saxon, Germany on April 16, 1853, the daughter of Heinrich Bernes and Carolina Landau. Initially, the couple lived at 74 Hamilton Avenue in Newark. Later, they moved to Liberty Street, then 115 Walnut Street. As far as I know, they had no children.

William's occupation was "iron moulder". He was a member of the Seth Boyden Council Number 184 of the Junior O.U.A.M. (Order of United American Mechanics), and the General Sedgewick Council Number 22 of the O.U.A.M.

They were still living on Walnut Street when Rosalie died of heart disease on June 14, 1928 at the age of 75. It would appear that from that point on, William may have drunk himself to death. He died less than three years later of cirrhosis of the liver, on January 21, 1931, at the Newark Alms House. He was 74 years old. An Alms House is a place where those who are no longer able to take care of themselves can go for some semblance of care. It is more commonly called a "Poor House". I can only guess that the O.U.A.M. paid for his obituary and funeral. William and Rosalie are buried together at Woodland Cemetery in Newark.






Back to the Top!



---

---
LYNN'S FAMILY WEBPAGE