Clara and Bertha (Jenette) Bittlingmeier Birth Certificate

Twins Clara and Bertha Bittlingmeier were born January 22, 1879. Their parents were Louis Bittlingmeier (1844-1899) and Katharina Schuhmann (1856- ). Sadly, both twins had very short lives. Clara died two months after her birth, on March 30, 1879, from diptheria. Bertha, whose name was mysteriously changed to Jenette, died two days after her sister on April 1, 1879, from pneumonia. We can only imagine how devastating this must have been to their parents.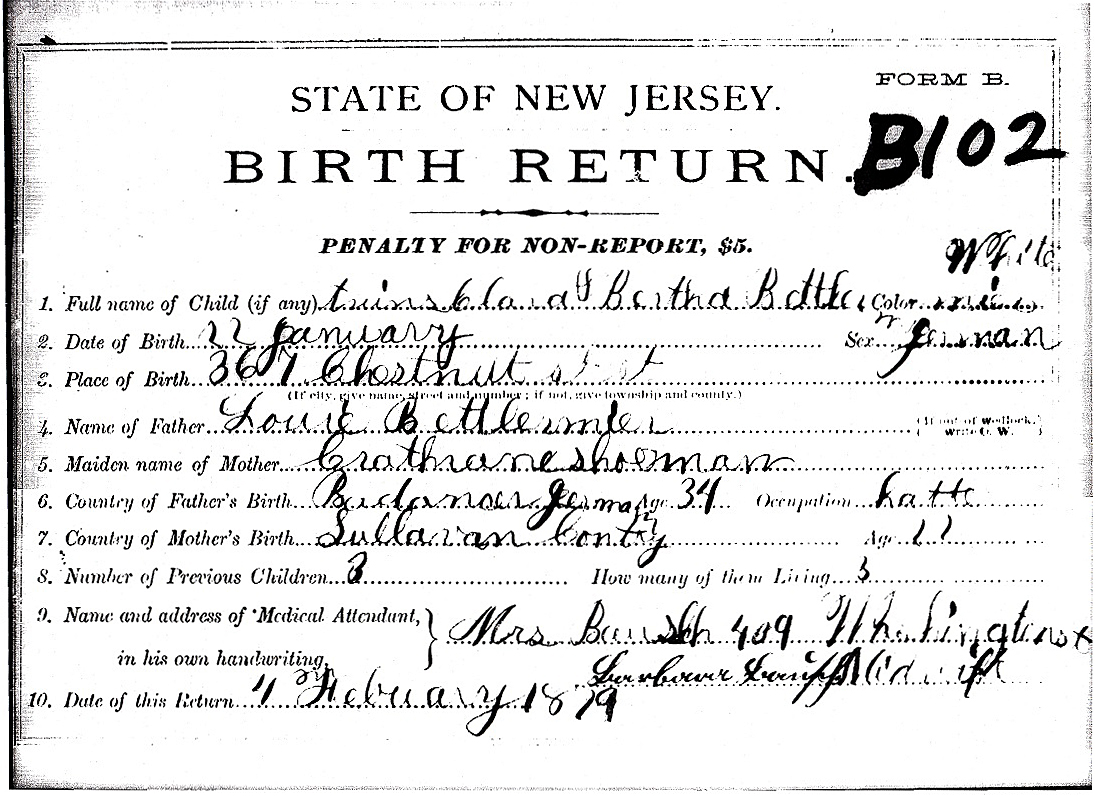 Name: Twins Clara & Bertha Bettlermier

Color: White

Date of Birth: January 22 (1879)

Sex: ? German? 

Place of Birth: 367 Chestnut Street, (Newark, NJ)

Name of Father: Louie Bettlermier

Maiden Name of Mother: Crathrane Shoeman

Country of Father's Birth: Badanaer; Age: 34; Occupation: Hatte(r)

Country of Mother's Birth: Sullavan Contry; Age: 22

Number of Children in all by this Marriage: 3; How many living: 3
   I know of only one other child at this time, 2-year-old Margaret Bittlingmeier.



Back to the Top!
---

---
LYNN'S FAMILY WEBPAGE