Charles Bechtold and Matilda Rayhon Marriage Index
Edward and Martha Bechtold's fourth child, Charles John Bechtold, married Matilda Elizabeth Rayhon.
Matilda was born in New Brunswick, New Jersey on September 23, 1903. Her parents were Paul Rayhon Victoria Hebda.
Charles and Matilda had three children: Charles Bechtold, Eleanor Bechtold and Cecelia Bechtold.





By 1940, Charles and Matilda were divorced. Matilda and the children were living
at 166 Lafayette Street in Rahway. Charles lived at 31 Rahway Avenue in Elizabeth, New Jersey.

Matilda remarried, to Ole D. Fisher. They lived in Pleasantville, in Atlantic County, New Jersey.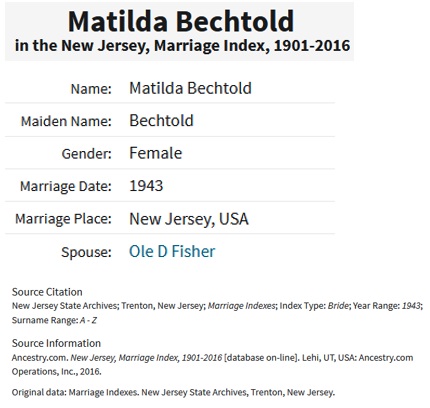 ---

---
LYNN'S FAMILY WEBPAGE