Dorothy Greuter Birth Certificate

Although the certificate says her name is Catherine Elizabeth Greuter, all other documentation, including census records, say her name was Dorothy. She was the daughter of Charles Greuter (1881-1953) and Sophie Rittershofer (1888-1954). So, unless there are actually two different people, I am assuming this is Dorothy's birth certificate and for some reason they changed her name. The date of birth is difficult to make out, but it appears to be June 12, 1913, which would agree with Dorothy's calculated date of birth from the census records.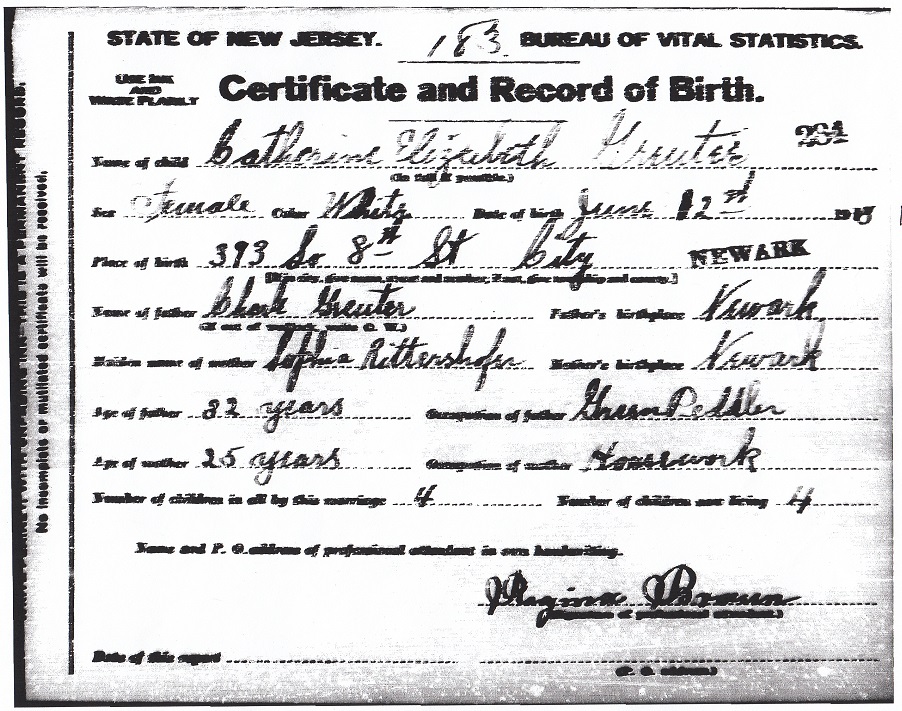 Name: Catherine Elizabeth Greuter

Color: White

Date of Birth: June 12, 1913

Sex: Female

Place of Birth: 393 South 8th Street, Newark, NJ

Name of Father: Charles Greuter

Maiden Name of Mother: Sophia Rittershofer

Country of Father's Birth: Newark; Age: 32; Occupation: Green Peddler

Country of Mother's Birth: Newark; Age: 25

Number of Children in all by this Marriage: 4; How many living: 4



Back to the Top!
---

---
LYNN'S FAMILY WEBPAGE