Henry August Bevensee Death Certificate

Henry was born in Newark on September 29, 1895. He was the son of Otto Heinrich Bevensee (1862-1943) and Anna Greuter (1876-1958). When he was 8 years old, Henry died of an appendicitis attack. Although the certificate states he was buried at Fairmount Cemetery (next to Holy Sepulchre Cemetery in Newark), he is actually buried with his baby sister and brother, Mary and Otto, in Woodland Cemetery, about 2 miles from Fairmount.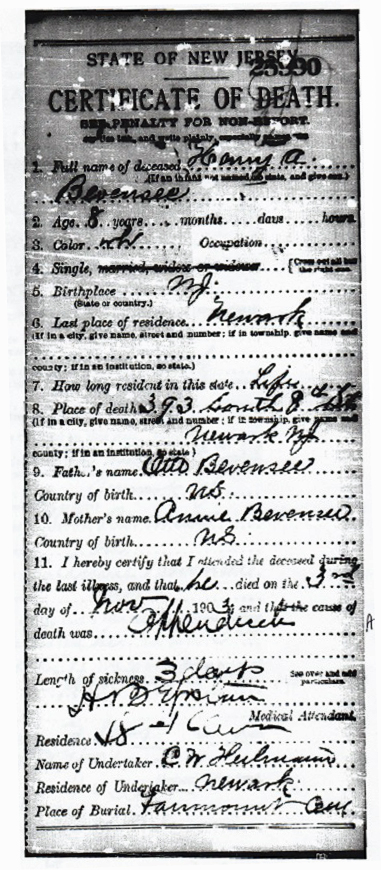 Name: Henry A. Bevensee

Age: 8 years

Date of Birth: 

Birthplace: NJ

Last residence: Newark, NJ

Place of Death: 393 South 8th Street, Newark, NJ

Marital Status: Single

Occupation: 

Father: Otto Bevensee

Mother: Annie Bevensee

Date of Death: November 3, 1903

Cause of Death: Appendicitis

Duration of Illness: 3 days

Informant: 

Place of Burial: Fairmount Cemetery


Back to the Top!
---

---
LYNN'S FAMILY WEBPAGE