James A. McCarthy Death Certificate

James was born in July of 1867, in Newark, NJ. Besides being the Newark Police Commissioner at the time of his death, he was the brother of Mary Ellen McCarthy (1862-1937) who was the wife of Matthew F. Murphy (1863-1933).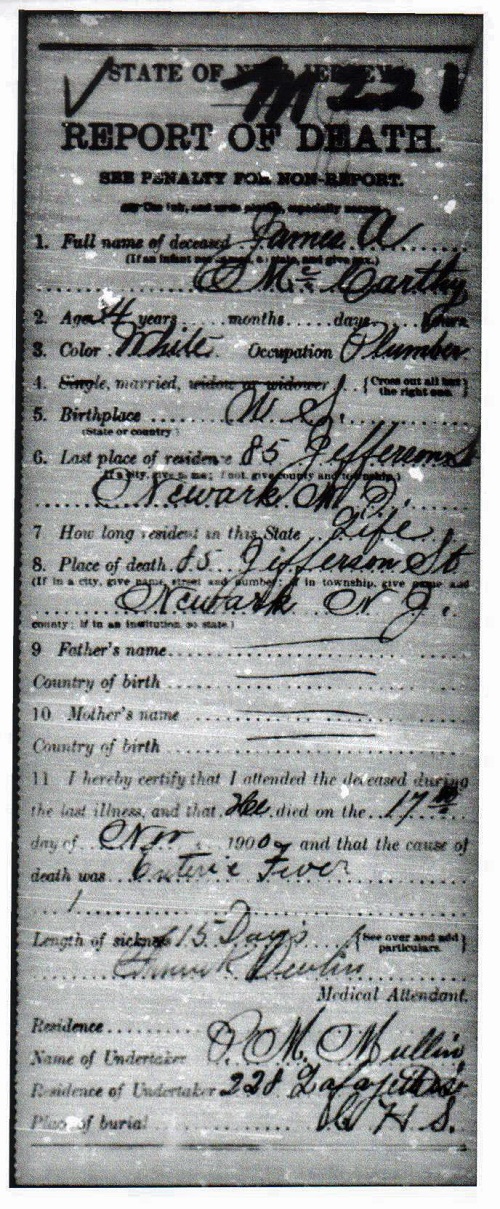 Name: James A. McCarthy

Age: 34 years

Date of Birth: 

Birthplace: U. S.

Last residence: 85 Jefferson Street, Newark, NJ

Place of Death: 85 Jefferson Street, Newark, NJ

Marital Status: Married

Occupation: Plumber

Father: 

Mother: 

Date of Death: November 17, 1900

Cause of Death: Enteric Fever

Duration of Illness: 15 days

Informant: 

Place of Burial: C. H. S.


Back to the Top!
---

---
LYNN'S FAMILY WEBPAGE