Jacob Bechtold Death Certificate

Jacob was born July 21, 1836 in Switzerland, the son of John and Barbara Bechtold. Jacob was the husband of Louisa Bittlingmeier (1846- ). Jacob and Louisa were the parents of John H. Bechtold (1866- ), Louis Bechtold (1868-1895), Louisa Bechtold Dumont (1870- ), and Edward Bechtold (1872- ).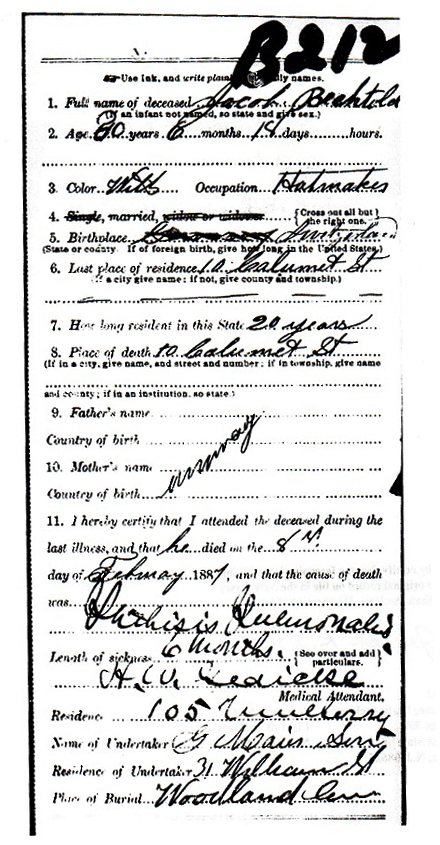 Name: Jacob Bechtold

Age: 50 years, 6 months, 18 days

Date of Birth: 

Birthplace: Switzerland

Last residence: 10 Calumet Street, Newark, NJ

How long Resident in State: 20 years

Place of Death: 10 Calumet Street, Newark, NJ

Marital Status: Married

Occupation: Hatmaker

Father: Unknown

Mother: Unknown

Date of Death: February 8, 1887

Cause of Death: Phthisis Pulmonalis

Length of Sickness: 6 months

Informant: 

Place of Burial: Woodland Cemetery


Back to the Top!
---

---
LYNN'S FAMILY WEBPAGE