John E. Murphy Death Certificate

John was born March 23, 1851 in Newark, NJ. He was the son of John Murphy (1826-1890) and Mary E. Murphy (1827-1894), and the husband of Henrietta Volk (1850-1889). John and Henrietta were the parents of John J. Murphy (1876- ), William Murphy (1878- ), and Harry Murphy (1881- ).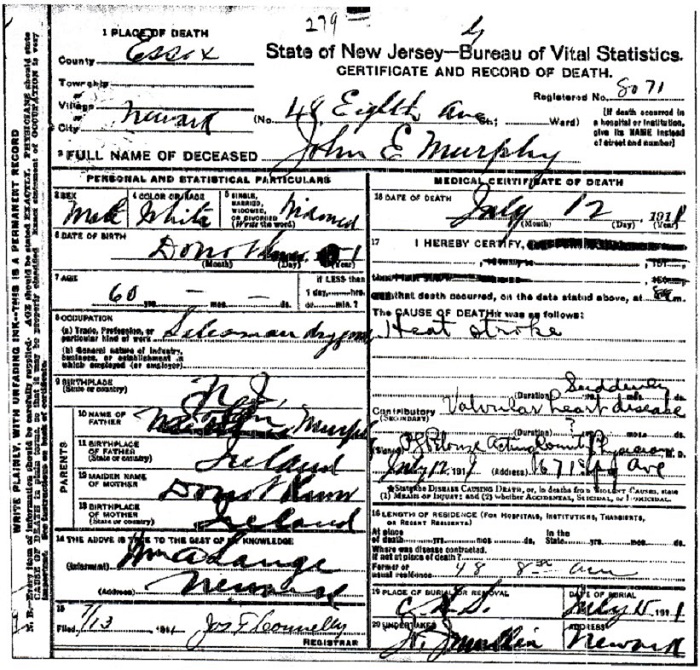 Place of Death: 48 Eighth Avenue, Newark, NJ

Name: John E. Murphy

Sex: Male

Color: White

Marital Status: Widowed

Date of Birth: Do not know

Age: 60 years

Occupation: Salesman Dry Goods 

Birthplace: New Jersey

Father's Name: John Murphy; Ireland

Mother's Name: Do not know; Ireland

Informant: William A Lange; Newark

Date of Death: July 12, 1911

Cause of Death: Heat Stroke

Duration: Suddenly

Contributory: Valvular Heart Disease

Last place of residence: 48 Eighth Avenue, Newark, NJ

Place of Burial: C. H. S. (Cemetery of the Holy Sepulchre)



Back to the Top!
---

---
LYNN'S FAMILY WEBPAGE