Josephina Hirschel (Hohschel) Schuhmann Death Certificate
Josephina Hohschel was born in Bavaria, Germany, on February 15, 1816. She was the wife of Anton Schuhmann (1818- ). Once in America, the surname Hohschel appears to have been changed to Hirschel. Josephina and Anton were the parents of Katherine Schuhmann (1856-1925). Document courtesy Kathryn Peters.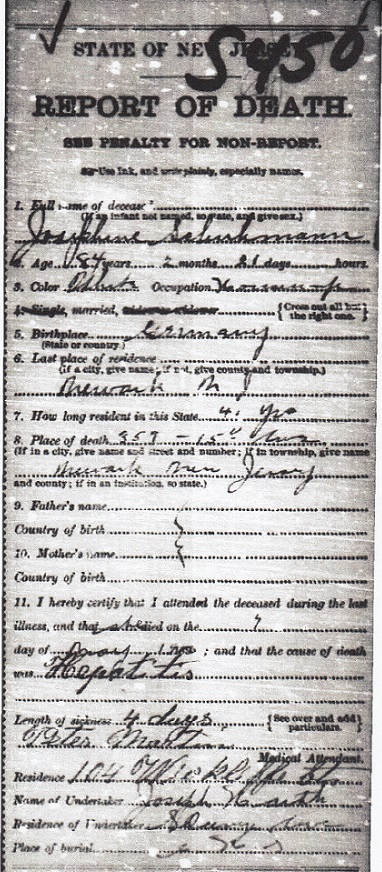 Place of Death: 357 15th Avenue, Newark, New Jersey

Name: Josephine Schuhmann

Residence: Newark, New Jersey

Sex: Female

Color or Race: White

Marital Status: Married

Wife of: 

Date of Birth (calculated): February 15, 1816

Age: 84 years, 2 months, 21 days

Occupation: Housewife

Birthplace: Germany

Father: 

Mother: 

Informant: 

Date of Death: May 7, 1900

Cause of Death: Hepatitis

Duration of Illness: 4 days

Place of Burial: CHS (Cemetery of the Holy Sepulchre)



Back to the Top!
---

---
LYNN'S FAMILY WEBPAGE