John J. Bechtold Death Certificate
John was the son of John H. Bechtold (1866-1938) and Catherine Mulhearn (1863-1894).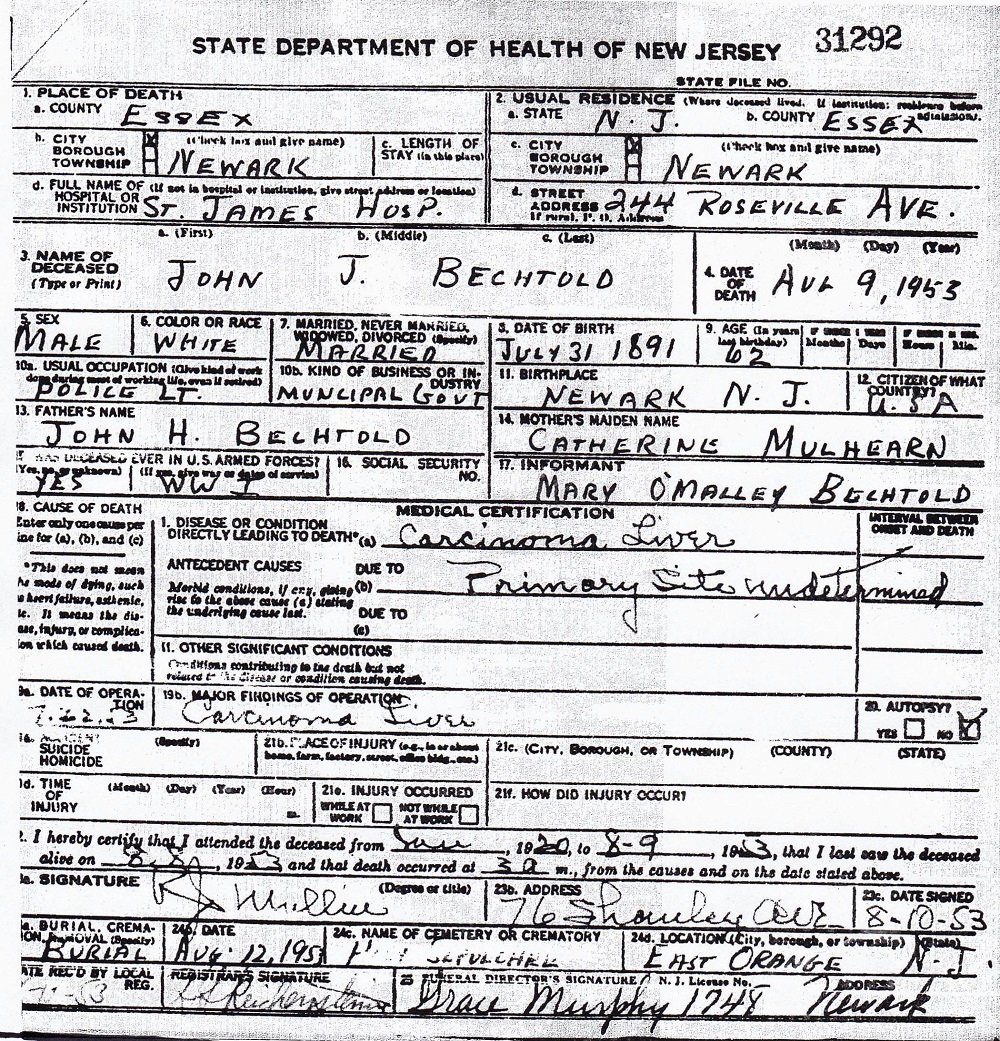 John had a twin sister named Mary. In 1910, when the twins were 18 years old, they both held steady jobs; young John as a clerk in a flower shop, and Mary as a milliner in a women's hat shop. By 1917, John was working as a chauffeur for a Mrs. Auerbacher in Newark. He was of medium height (5'8") and build, with blue eyes and brown hair. On November 11, 1917, he followed in his father's footsteps by joining the Newark police force. Initially, he was assigned as a patrolman to First Precinct Station. The following year he enlisted in the Army, on March 5, 1918, and served with the Army infantry overseas during World War I. After the war he returned to his post at the precinct.

In 1931, John was assigned to the newly organized headquarters auto squad. He also served on the Headquarters Detective Bureau, holding the rank of Lieutenant. He worked primarily on the vice squad, and later was in charge of the police garage on Franklin Street. As if this wasn't enough to keep him busy, he also was a member of the Police Anchor Club, Knights of Columbus, Patrolmen's Benevolent Association, Superior Officers Association, and Newark Police Post No. 1439 Veterans of Foreign Wars.

In 1941, John married Mary O'Malley, the daughter of Martin and Annie O'Malley. Martin was also a Newark Policeman. Mary was a one-time Democratic state committeewoman and the sister of Police Inspector Eugene O'Malley. John was 62 years old when he died at St. James's Hospital after a long bout with liver cancer, on August 9, 1953. He and his wife Mary were living at 244 Roseville Avenue in Newark. At the time of his death, he was still working as a detective lieutenant with the Newark Police Department, a thirty-five year veteran.

John's wife Mary lived until her 88th year and died on October 8, 1981. She was buried with John at Holy Sepulchre. I don't know what became of John's twin sister Mary.










---

---
LYNN'S FAMILY WEBPAGE