John Murphy Death Certificate

John was born May 7, 1826, in Enniscorthy, County Wexford, Ireland. He was the son of Matthew and Catherine Murphy, and the husband of Mary E. Murphy (1827-1894). John and Mary were the parents of John E. Murphy (1851-1911), Catherine Murphy (1852- ), Mary E. Murphy (1860- ), Matthew F. Murphy (1863-1933), and Mary Murphy (1869- ).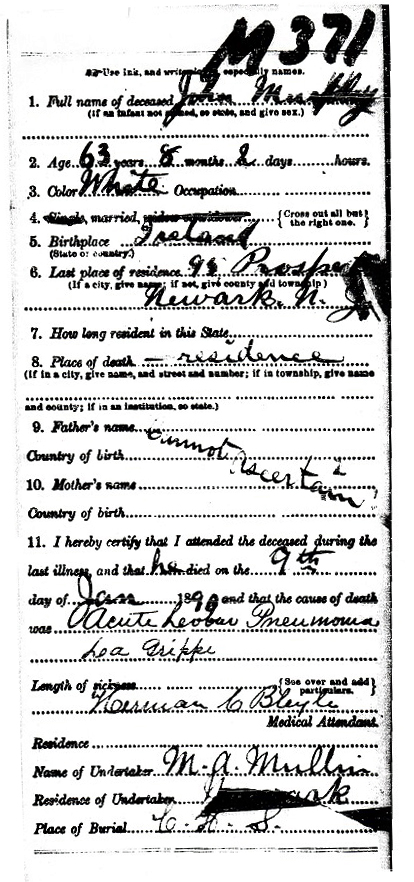 Name of Deceased: John Murphy

Age: 63 years, 8 months, 2 days

Color: White

Marital status: Married

Birthplace: Ireland

Last Place of Residence: 95 Prospect Street, Newark, NJ

Place of Death: Residence

Father's Name: Cannot Ascertain

Mother's Name: Cannot Ascertain

Date of Death: January 9, 1890

Cause of Death: Acute Lobar Pneumonia; La Grippe (Influenza)

Place of Burial: C. H. S. (Cemetery of the Holy Sepulchre)



Back to the Top!
---

---
LYNN'S FAMILY WEBPAGE