Katherine (Schuhmann) (Bittlingmeier) Kern Obituary

Katharine Schuhmann was born in Fremont, New York on December 22, 1856, but her parents came from Bavaria, Germany. Her father, Anton Schuhmann, was born there in February 1818; Her mother, Josephine Hirschel, was also born in Bavaria, Germany, around 1820. Katherine's first marriage was to Louis Bittlingmeier, in Newark, on August 2, 1876. Louis was only 55 years old when he died on October 11, 1899. Three years later, Katharine married her second husband, Sebastian Kern, on May 18, 1902. She and Sebastian were living on Morris Avenue (near Burnet Avenue) in Union, New Jersey when she died of a heart attack on August 21, 1925.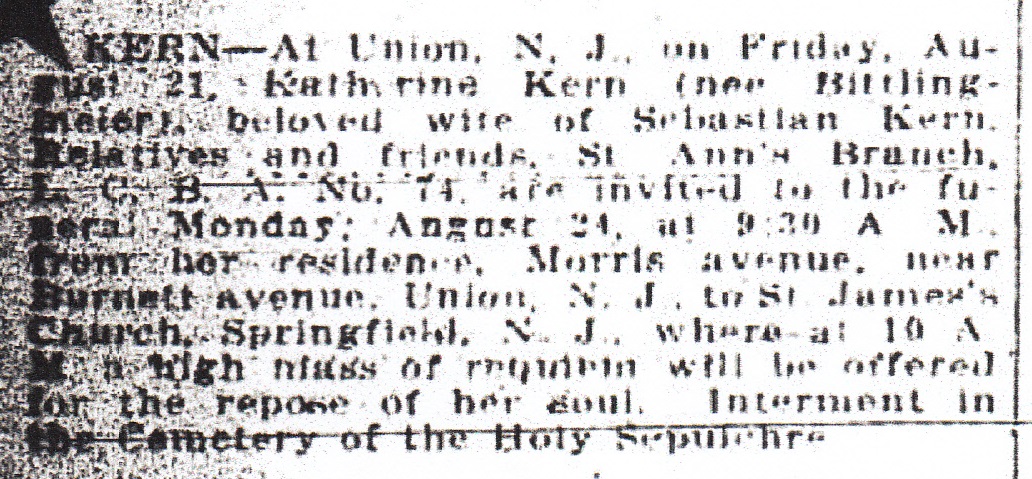 KERN - At Union, N.J., on Friday, August 21, Katherine Kern (nee Bittlingmeier), beloved wife of Sebastian Kern. Relatives and friends, St. Ann's Branch, L. C. B. A. No. 74 are invited to the funeral Monday, August 24 at 9:30 A.M. from her residence, Morris Avenue, near Burnet Avenue, Union, N.J. to St. James's Church, Springfield, N.J., where at 10 A.M. a high mass of requiem will be offered for the repose of her soul. Interment in the Cemetery of the Holy Sepulchre.

Note: L. C. B. A. stands for Loyal Christian Benefit Association

Obituary posted in the August 22, 1925 issue of the Newark Evening News, page 18, column 1. Courtesy Kathryn Peters.



















---

---
LYNN'S FAMILY WEBPAGE