Louisa Bitlingmeier (Schneider/Bechtold) and Jacob Gammel Marriage Records

Of Louisa's three marriages, these two documents of Louisa's third marriage were provided by Kathryn and Tom Peters. Louisa was married first to a Civil War soldier named William Schneider. He died in battle just a few months after the wedding, but not before Louisa became pregnant. She gave birth to William Schneider, Jr. Unfortunately, he lived for little more than one year. A year later, Louisa married her second husband, another Civil War soldier name Jacob Bechtold. He survived the war and he and Louisa had five children. When Jacob died in 1887, Louisa was only 40 years old. In 1890, it appears she married for the third time, to Jacob Gammel, documented below.

There is a curious and mysterious entry on the first document, the Marriage Return. For "Last name, if a widow", it says "Greise" or "Greiss".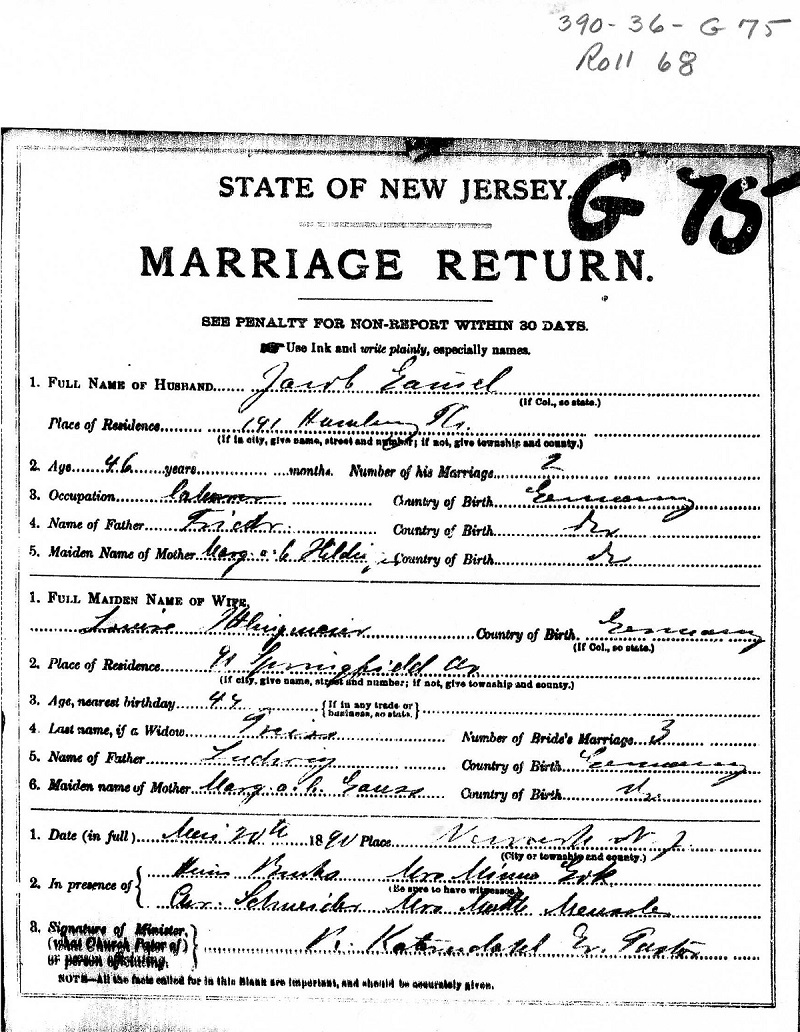 Marriage Date: May 20, 1890

Marriage Location: Newark, NJ

Groom: Jacob Gammel; age 46; born in Germany; occupation: Laborer; His second marriage

Groom's Residence: 141 ????? (could be Hansbury or Hamburg), Newark, NJ 

Groom's Father: ??????; birthplace: Germany  

Groom's Mother: Margarete Hild?????; birthplace: Germany 

Bride: Louise Ittlingmeier; age 44; born in Germany; Widowed name: Greiss (?); her third marriage 

Bride's Residence: 91 Springfield Ave, Newark, NJ 

Bride's Father: Ludwig; birthplace: Germany  

Bride's Mother: Margarethe Gauss; birthplace: ? 

Witnesses: Chr. Schneider and Mathilda Neuler

Minister: R. Katerndahl





The document below is from the St. Stephan's Grace Community Lutheran Church Records. The church was established in 1874 in Newark, New Jersey. This is a page from the church marriage registry, showing "Jac. Gammel", 46 years of age, from Württemberg, marrying "Louise Bechtold geb. Ettlinguserin" 44 years old, from Baden. The date of the marriage is May 20, 1890. The "geb." in Louisa's name is short for "geborene", a German term meaning "maiden name". Here, it is determining that her maiden name was "Ettlinguserin". We have no idea how Bittlingmeier became Ettlinguserin.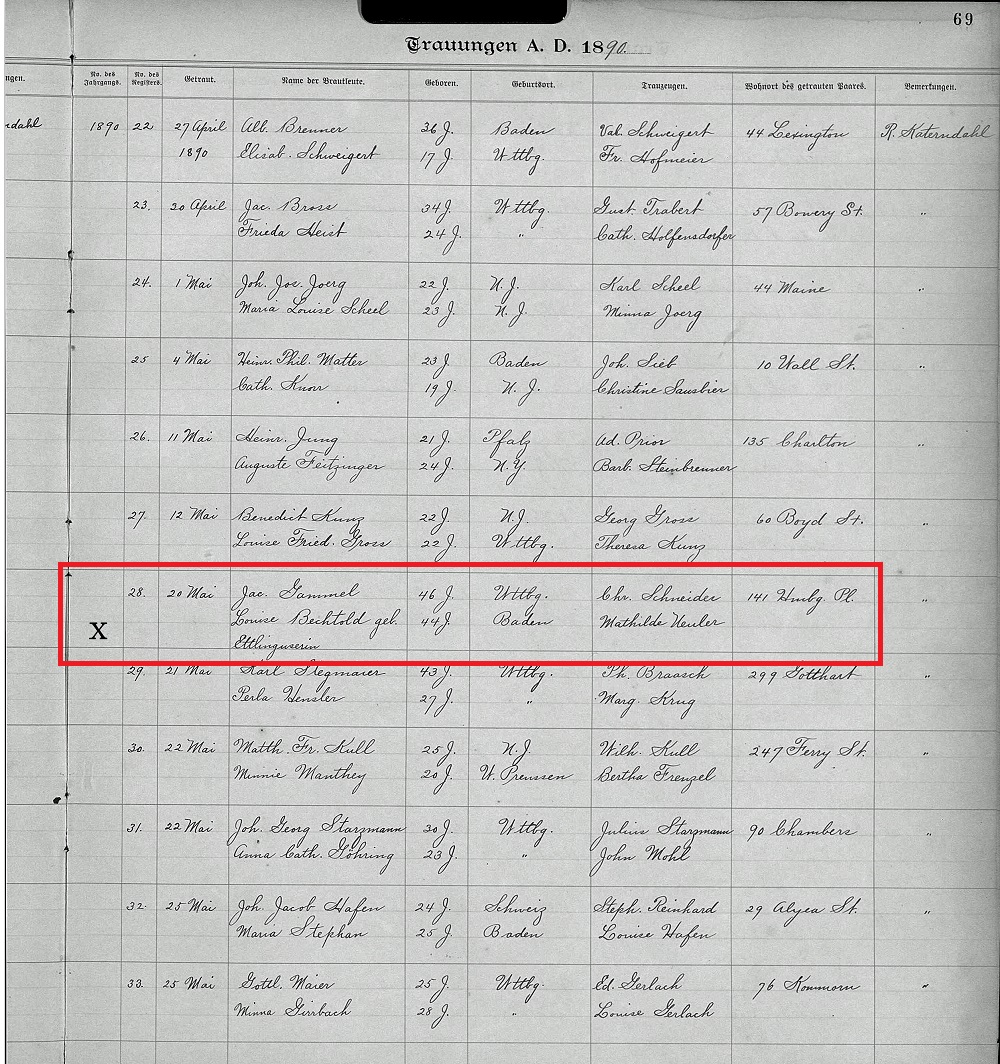 Back to the Top!
---

---
LYNN'S FAMILY WEBPAGE