Marguerite Murphy Death Certificate
Marguerite was born July 28, 1888 in Newark, NJ, the daughter of Matthew F. Murphy (1863-1933) and Mary Ellen McCarthy (1863-1937).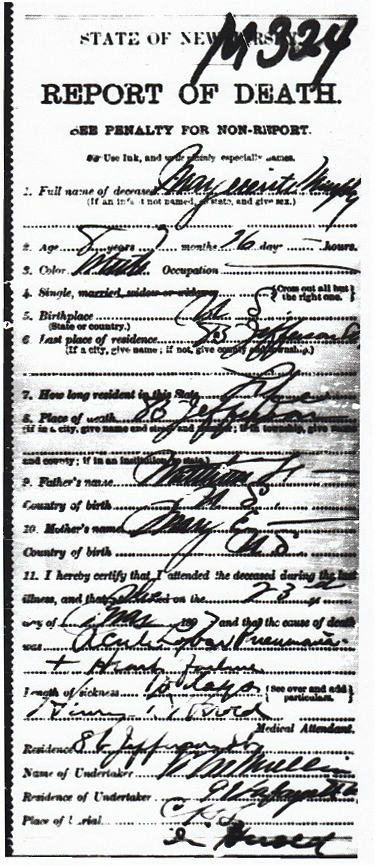 Name: Marguerite Murphy

Age: 8 years, 7 months, 26 days

Color: White

Marital Status: Single

Birthplace: U. S.

Last place of residence: 85 Jefferson Street, Newark, NJ

How long resident of this place: Life

Place of Death: 85 Jefferson Street, Newark, NJ

Father's Name: Matthew F.; U. S.

Mother's Name: Mary E.; U. S.

Date of Death: March 23, 1897

Cause of Death: Acute Lobar Pneumonia + Heart Failure

Place of Burial: C.H.S. (Cemetery of the Holy Sepulchre)



Back to the Top!
---

---
LYNN'S FAMILY WEBPAGE