Mamie Bauer and Gus Klaiber Marriage Certificate
Mamie Bauer was the daughter of Frank Bauer (1863-1894) and Margaret Greuter (1868-1940). Gus Klaiber's parents were Gottlieb Klaiber and Elizabeth Gaesbel(?).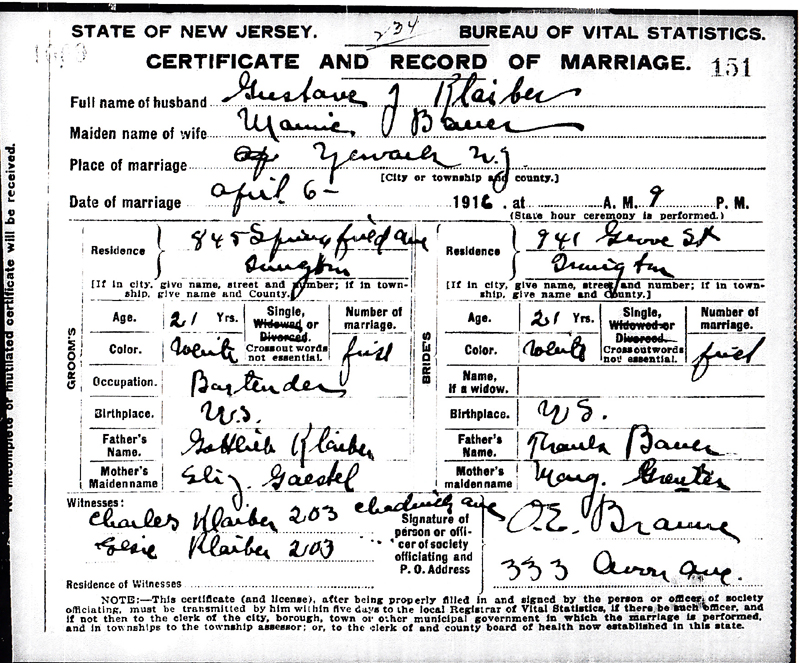 Marriage Date: April 6, 1916

Marriage Location: Newark, NJ

Groom: Gustave Klaiber; age 21; born in U.S.; occupation: Bartender

Groom's Residence: 845 Springfield Avenue, Irvington, NJ 

Groom's Father: Gottlieb Klaiber; birthplace:

Groom's Mother: Eliz. Gaeskel(?); birthplace:

Bride: Mamie Bauer; age 21; born in U.S.

Bride's Residence: 941 Grove Street, Irvington, NJ 

Bride's Father: Frank Bauer; birthplace:

Bride's Mother: Marg. Greuter; birthplace:



Back to the Top!
---

---
LYNN'S FAMILY WEBPAGE