Margaret (Bittlingmeier) Zenglein Death Certificate

Margaret was born January 1, 1877 in Newark, NJ. She was the daughter of Louis Bittlingmeier (1844-1899) and Katharina Schuhmann (1856- ), and the wife of John A. Zenglein (1880- ). Margaret and John were the parents of Beatrice Zenglein Rears (1903-1986), John A. Zenglein (1904-1904), Katherine Zenglein (1905- ), Margaret Zenglein Pante (1909-1971), Marie Zenglein Harvin (1911- ), John Zenglein (1914-1995), Charles Zenglein (1915-1991), and Ernestine Zenglein (1917-1998).

For some unexplained reason, the death certificate says Margaret's father was William Bittlingmeier. The informant is John and Margaret's son.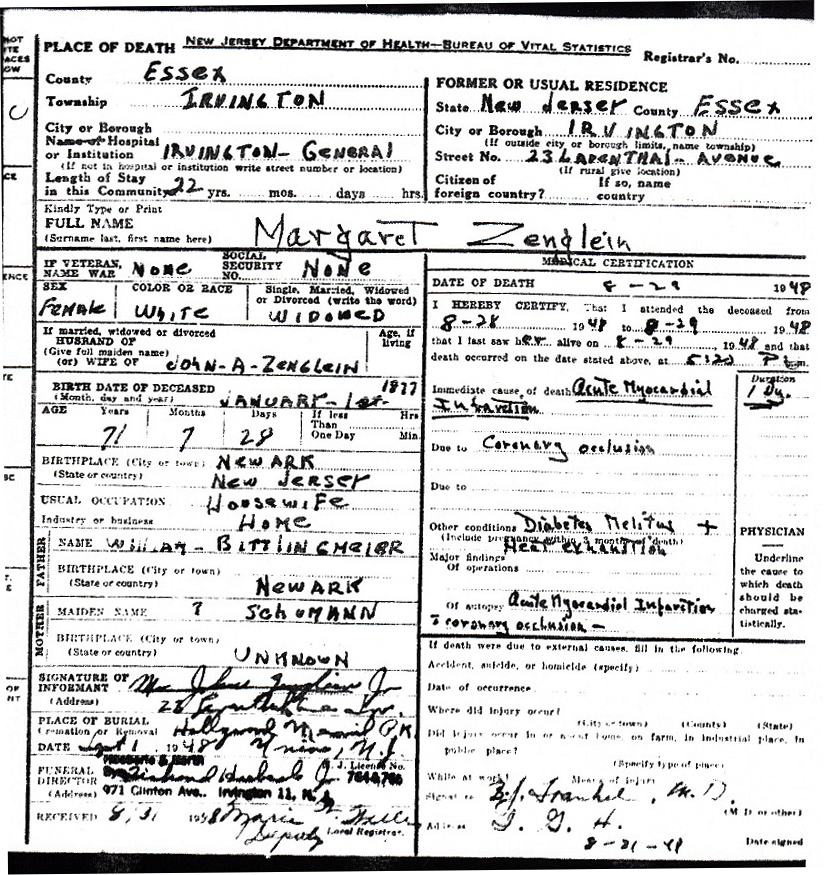 Name: Margaret Zenglein

Age: 71 years, 7 months, 28 days

Date of Birth: January 1, 1877

Birthplace: Newark, New Jersey

Last residence: 23 Laranthal Avenue, Irvington, NJ

Place of Death: Irvington General Hospital, Irvington, NJ

Marital Status: Widowed (John A. Zenglein)

Occupation: Housewife

Father: William Bittlingmeier

Mother: ? Schumann

Date of Death: August 29, 1948

Cause of Death: Coronary Occlusion

Informant: Mr. John Zenglein Jr.

Place of Burial: Hollywood Memorial Park


Back to the Top!
---

---
LYNN'S FAMILY WEBPAGE