Marya (Mazurkiewicz) Dyszkiewicz Death Certificate
Marya was born in 1867 in Poland. She was the wife of Lawrence Dyszkiewicz (1851-1924). Marya and Lawrence were the parents of Edward Dyszkiewicz (1889- ), Stanley Dyszkiewicz (1891- ), John Dyszkiewicz (1892- ), Henry Dyszkiewicz (1894- ), Sophie Dyszkiewicz Kramer (1895-1981), Frances Dyszkiewicz Murphy (1899-1968), and Louisa Dyszkiewicz (1901- ).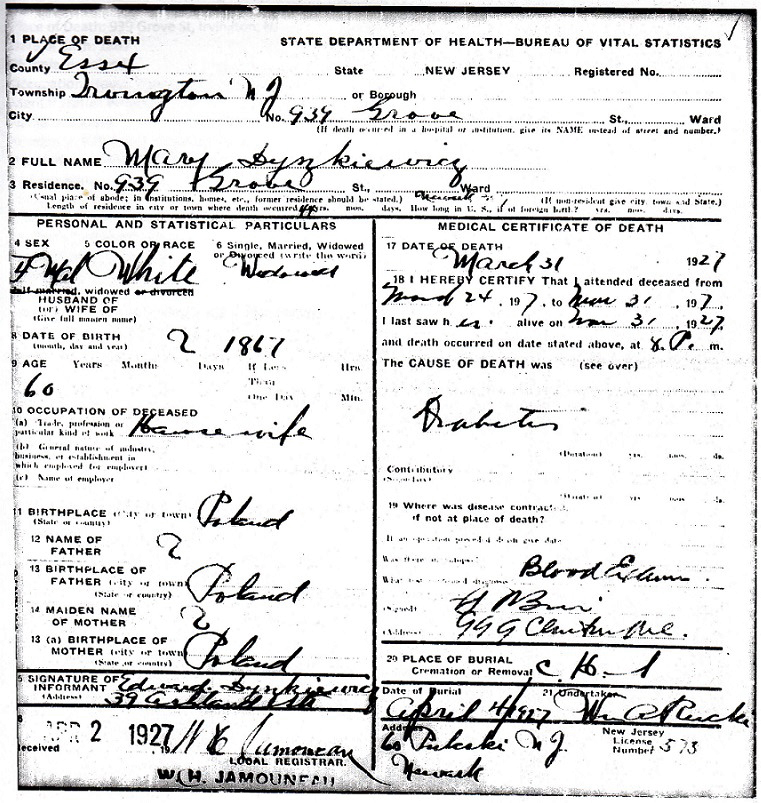 Place of Death: 939 Grove Street, Irvington, NJ

Name: Mary Dyszkiewicz

Residence: 939 Grove Street, Irvington, NJ

Sex: Female

Color or Race: White

Marital Status: Widowed

Wife of: 

Date of Birth: ? 1867

Age: 60 years

Occupation: Housewife

Birthplace: Poland

Father: ? ; Poland

Mother: ? ; Poland

Informant: Edward Dyszkiewicz, 39 Ashland Street (Newark?)

Date of Death: March 31, 1927

Cause of Death: Diabetes

Place of Burial: C.H.S. (Cemetery of the Holy Sepulchre)



Back to the Top!
---

---
LYNN'S FAMILY WEBPAGE