Margaret (Surbeck) Greuter Death Certificate

Margaret was born in Switzerland on February 18, 1843. She was the wife of Felix Greuter (1838-1892). Margaret and Felix were the parents of Felix Greuter, Jr. (1867-1892), Margaret Greuter Bauer (1868-1940), Herman Greuter (1874-1940), Anna Greuter Bevensee (1876-1958), Mary Greuter Kluge (1878- ), Charles Greuter (1881-1953), and Henry F. Greuter (1884-1934).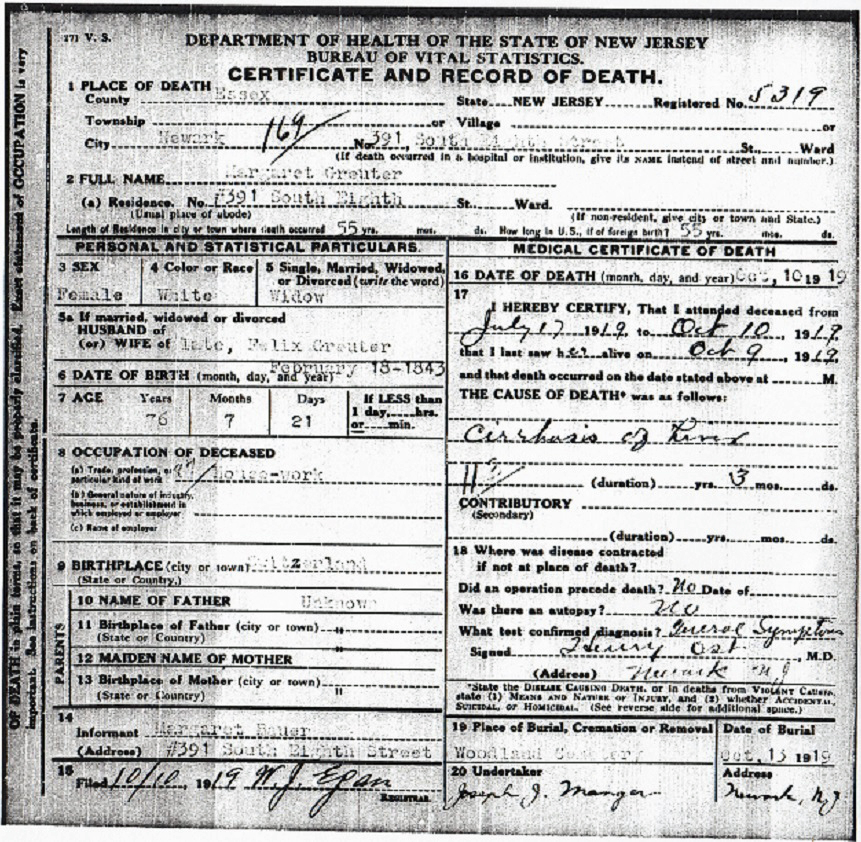 Name: Margaret Greuter

Age: 76 years, 7 months, 21 days

Date of Birth: February 18, 1843

Birthplace: Switzerland

Last residence: 391 South 8th Street, Newark, NJ

Place of Death: 391 South 8th Street, Newark, NJ

Marital Status: Widow (Felix Greuter)

Occupation: Housework

Father: Unknown

Mother: Unknown

Date of Death: October 10, 1919

Cause of Death: Cirrhosis of Liver

Duration of Illness: 3 months

Informant: Margaret Bauer

Place of Burial: Woodland Cemetery


Back to the Top!
---

---
LYNN'S FAMILY WEBPAGE