Otto Heinrich Bevensee Death Certificate

Otto was born in Germany on May 20, 1862, the son of Henry Bevensee and Christine Miller (Mueller), and the husband of Anna Greuter (1876-1958). Otto and Anna were the parents of Henry Bevensee (1895-1903), Frederick Bevensee (1896-1977), Otto F. Bevensee (1897-1897), Mary L. Bevensee (1900-1900), Edna Bevensee Figler (1902-1979), and William F. Bevensee (1909-1983).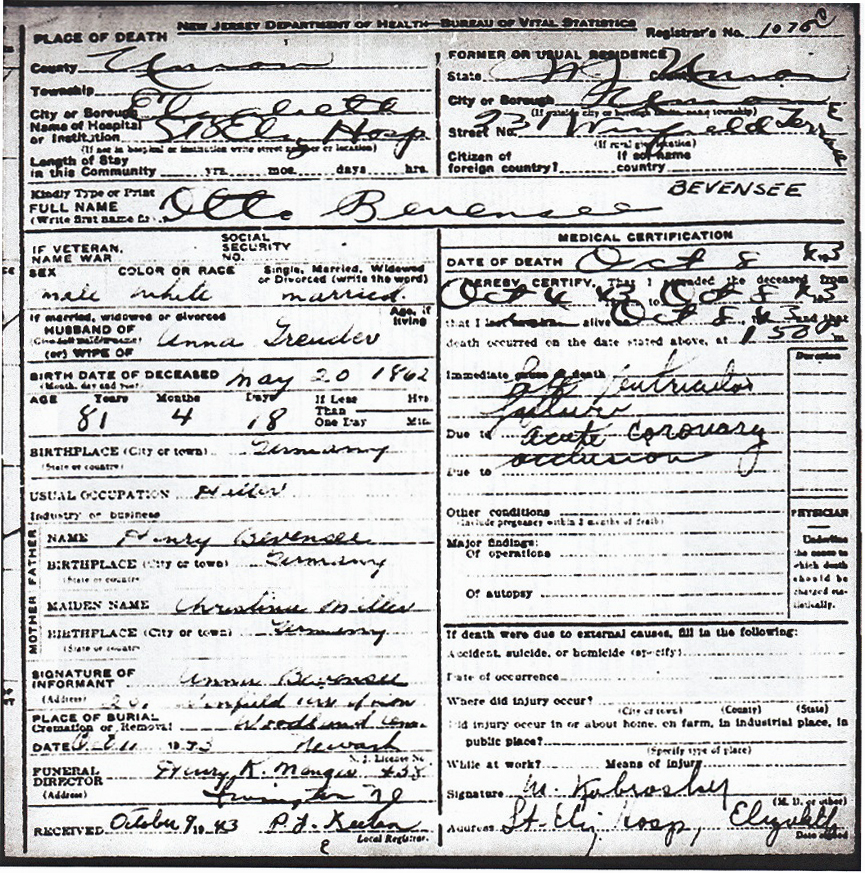 Name: Otto Bevensee

Age: 81 years, 4 months, 18 days

Date of Birth: May 20, 1862

Birthplace: Germany

Last residence: 231 Winfield Terrace, Union, NJ

Place of Death: St. Elizabeth Hospital, Elizabeth, NJ

Marital Status: Married (Anna Greuder)

Occupation: Hatter

Father: Henry Bevensee - Germany

Mother: Christine Miller - Germany

Date of Death: October 8, 1943

Cause of Death: Left Ventricular Failure

Duration of Illness: 4 days

Informant: Anna Bevensee

Place of Burial: Woodland Cemetery


Back to the Top!
---

---
LYNN'S FAMILY WEBPAGE