Paul F. McMenamin and Madeline M. Bogner Marriage Certificate
Madeline was born October 9, 1904 in Sag Harbor, New York, the daughter of Max Bogner (1875-1960) and Adele Zeif (1877-1972).
Paul's parents were James McMenamin and Mary Bolttinger.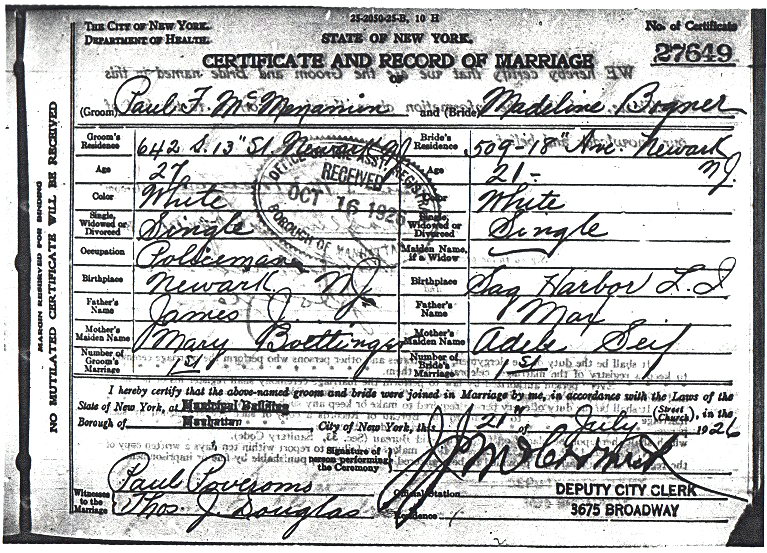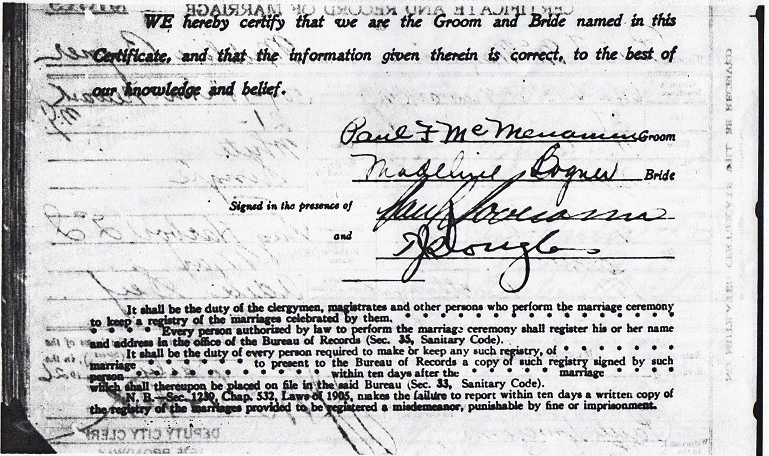 Marriage Date: July 21, 1926

Marriage Location: Municipal Building, Manhattan, NY

Groom: Paul F. McMenamin; age 27; born in Newark, NJ; occupation: Policeman

Groom's Residence: 642 South 13th Street, Newark, NJ 

Groom's Father: James J. (McMenamin); birthplace: 

Groom's Mother: Mary Bolttinger(?); birthplace: 

Bride: Madeline bogner; age 21; born in Sag Harbor, L.I. 

Bride's Residence: 509-18th Avenue, Newark, NJ 

Bride's Father: Max (Bogner); birthplace: 

Bride's Mother: Adele Seif; birthplace: 

Witnesses: Paul Poveroms(?) and Thomas J. Douglas


Back to the Top!
---

---
LYNN'S FAMILY WEBPAGE