Paul F. McMenamin and Madeline M. Bogner Marriage Certificate
Madeline was born October 9, 1904 in Sag Harbor, New York, the daughter of Max Bogner (1875-1960) and Adele Zeif (1877-1972).
Paul was born in Newark, New Jersey on April 20, 1898. His parents were James McMenamin and Mary Boettinger.
Paul died September 31, 1961. Madeline married her second husband Joe Hendricks in 1968. He died in 1972.
Madeline was 70 years old when she married her third husband Richard McDonald in 1975.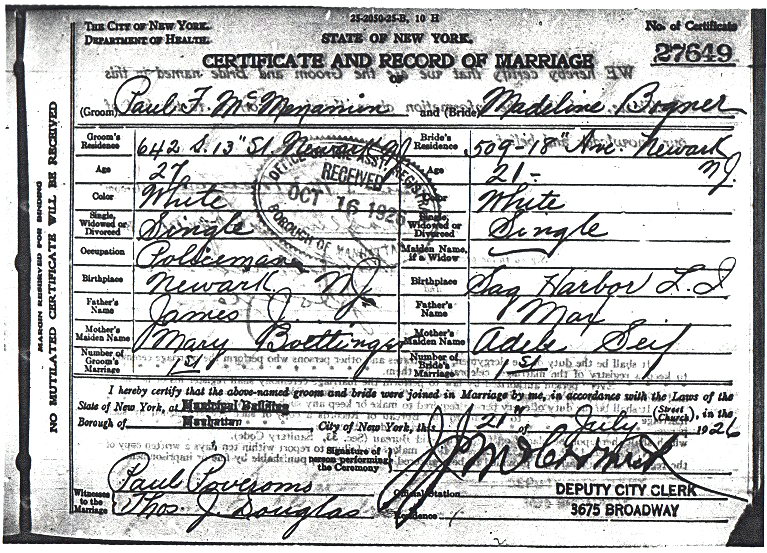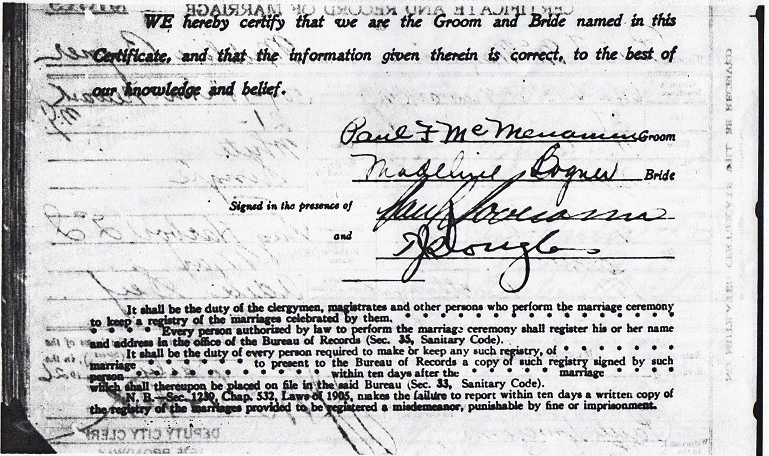 Marriage Date: July 21, 1926

Marriage Location: Municipal Building, Manhattan, NY

Groom: Paul F. McMenamin; age 27; born in Newark, NJ; occupation: Policeman

Groom's Residence: 642 South 13th Street, Newark, NJ 

Groom's Father: James J. (McMenamin); birthplace: 

Groom's Mother: Mary Boettinger; birthplace: 

Bride: Madeline Bogner; age 21; born in Sag Harbor, L.I. 

Bride's Residence: 509-18th Avenue, Newark, NJ 

Bride's Father: Max (Bogner); birthplace: 

Bride's Mother: Adele Seif; birthplace: 

Witnesses: Paul Poveroms(?) and Thomas J. Douglas


Back to the Top!
---

---
LYNN'S FAMILY WEBPAGE